Download ACDSee Photo Studio Ultimate 2022 15 for Windows 7, 8, 10, 11 - Professional application to help users organize, manage and edit photos effectively and more
With the explosion of digital photography, doesn't everyone need a secret weapon? Compact and efficient by design for both the novice and skilled photographer! ACDSee Ultimate 2022 breaks the shackles of repetition and combats the agents of bland by unleashing a world of creative control and endless possibilities.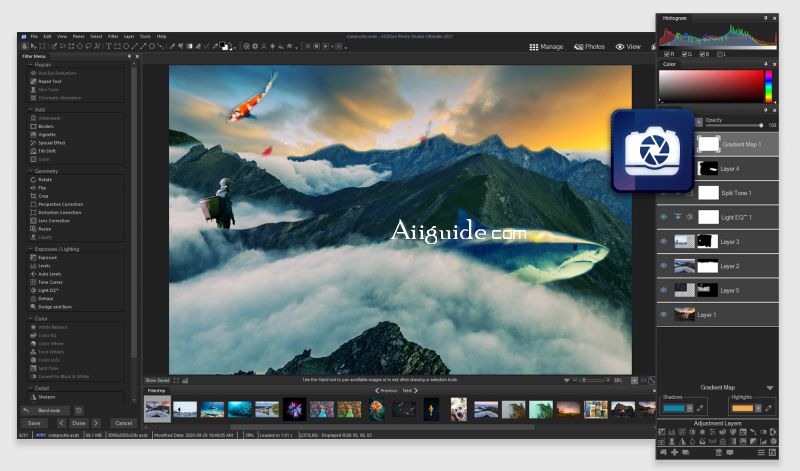 ACDSee Photo Studio Ultimate 2022 offers incredible time-saving tools such as the all-new Media mode for interacting with the ACDSee photo database and People mode, an AI engine that seamlessly places a name to a face. Add a bevy of new selection tools to an already robust Layering Editor, and you have a secret weapon for building your photography empire in an overcrowded digital world.
Channel Your Creativity:
New for ACDSee 2022 is the paradigm-altering power to fine-tune a variety of selections that were previously impossible. Use Channel Selection and Channel Filtering in conjunction with a new Selection Basket to craft subtle or majestic selections that can be stored and unleashed with any whim. ACDSee's Layered Editor is a proven gateway to finding visions of magic in every shot and with added improvements to HDR and Focus Stacking, you will attract the eye of envy.
Channel Selection
Channel Filtering
Selection Basket
Improved High-Dynamic Range
Improved Focus Stacking
Adjustment Layers & Layer Masks
Blend Modes, Layer Effects & Opacity
Text Tool.
More New Features and Improvements:
Pixel Targeting within Color Wheels
Squareness Slider for Radial Gradients
Luminance/Color Range
Improved Noise Reduction
Improved Curve Control
Improved Gradient Control
Selection Preview Button
High ISO Support.
The addition of a Color Wheel and Luminance Range inside Pixel Targeting lets you make pixel-perfect color and brightness selections for fine-tuning precise areas within your images. Increase the detail in your skylines, bring faded mountains to life, or transform that dull boat into a vibrant vessel… the possibilities are endless. For those high ISO shots, Ultimate 2022 features improved Noise Reduction and a new application that ties noise reduction to the Develop brush, offering surgical control instead of blanketing an entire image with the same treatment. Other improvements allow you to preview complicated selections with a single click, as well as offer greater flexibility for gradient tools and more control over tone curves.
System Requirements:
Microsoft Windows 7 (SP1), Windows 8, Windows 8.1, & Windows 10 (64-bit editions only)
Microsoft Internet Explorer 9+
Microsoft DirectX 10 or higher
Windows Media Player 9.0
Microsoft Office 2010 or above.