Download AMD Radeon 21 for Windows - The graphics and HD video configuration software delivers unprecedented control of performance and visual quality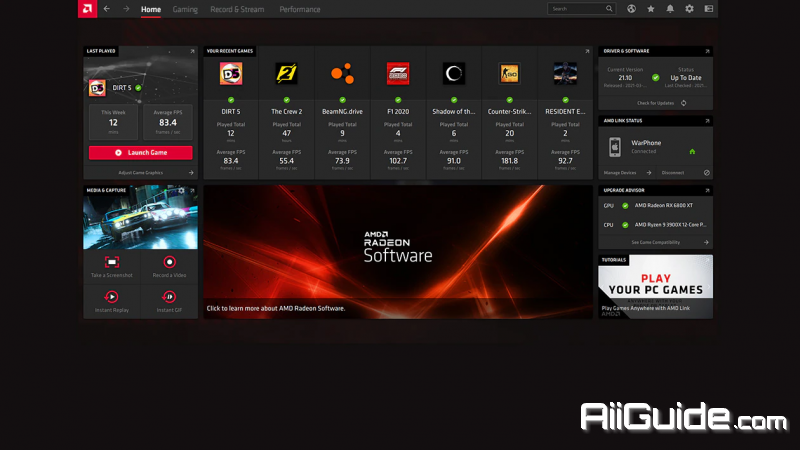 AMD Radeon Adrenalin Edition is the graphics and HD video configuration software. It delivers unprecedented control of performance and visual quality with ATI Radeon graphics processors. Radeon Software has been designed to provide you with a clean, modern and easy-to-use interface where you can quickly access the latest software features, game stats, performance reports, driver updates, and much more - all from one convenient location. Take advantage of the ALT+R hotkey to open Radeon Software directly in-game, making it even more convenient and easy to adjust your favorite features and get a fantastic gaming experience.
Overview of AMD Radeon Features:
Radeon Boost
Dynamically adjusts resolution during camera rotation in first- and third- person games to deliver higher frame rates and more immediate responses
Radeon Anti-Lag
Reduces lag by intelligently controlling the queuing of CPU work ahead of GPU work in DirectX ® 9, DirectX® 11 and DirectX ® 12 games
AMD FreeSync
A variable refresh rate technology that delivers a fluid, tear-free experience and provides quicker responses to the screen.
AMD Radeon Adrenalin Edition advances:
Fast high-speed game loading with Shader Cache.
Optimized Flip Queue Size provides users with the very latest keyboard and mouse positional information while gaming
Frame Pacing: smoother gaming enhancements enabled on DirectX 9 games
Enhanced image quality for 1080p media content scaled to 4K using adaptive directional filtering technology
Fine-tuned Dynamic Contrast algorithm
Enhanced Video quality settings for 6th Generation A-Series AMD APUs
Display Port to HDMI 2.0 dongle support
Customizable display settings with fine tuning for resolutions, timings, and refresh rates
AMD FreeSync technology enhancements. AMD CrossFire support for DirectX 9 games and low frame rate compensation for smoother gameplay
And more...
System Requirements:
Support the following Microsoft Windows platforms:
Windows 10 (32 and 64-bit version)
Windows 8.1 (32 and 64-bit version)
Windows 7 (32 and 64-bit version with SP1 or higher)