Download AnyBurn 5 for Windows XP, Vista, 7, 8, 10, 11 - A light weight but professional CD / DVD / Blu-ray burning software that everyone must have
AnyBurn is a free CD, DVD, and Blu-ray burning app that can create and burn images, rip and burn audio, copy discs, create a bootable Windows USB, and more. AnyBurn's interface is laid out in 2 side-by-side buttons, making it easy to get started with most everyday tasks. If you use images frequently, it has a lot of features for image files. You can burn to disc, copy disc, browse or extract, create, convert, and edit image files.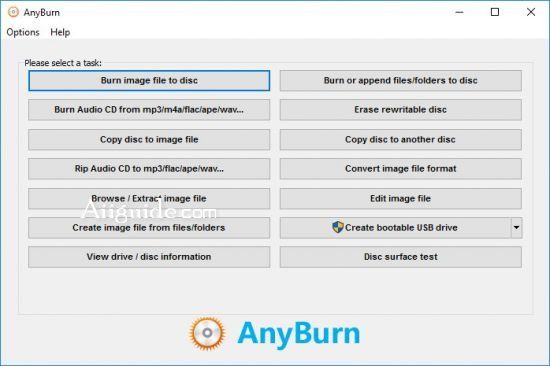 Any Burn - CD / DVD / Blu-ray burning software
You can even create a bootable USB drive, although AnyBurn is available on aiiguide.com needs to be run as an Administrator for that. If you're working with image files, you might find options including the file system, ISO9660 name, Joliet name, and file optimization. Of course, there are endless options, as well. You can select from 13 or more languages, and many of the options listed above can be set up here if you have a preference that isn't currently the default.
Features of AnyBurn
Burn all CD / DVD / Blu-ray disc image files.
Backup or add files and folders to CD, DVD, or Bluray disc
Burn Audio CD which can be played in regular CD player from mp3, m4a, ape, flac, wma files...
Rip Audio CD to MP3, FLAC, APE, WMA, WAV files.
Copy disc using sector by sector method.
Create image files from hard disk files or CD / DVD / BD discs.
Convert disc image files between various formats.
Create bootable USB drive for Windows 7, 8, 10, or Linux.
Test disc sectors.
Support both 32-bit and 64-bit Windows.