Download AOMEI Backupper 6 for Windows - A professional-like, easy-to-use backup and recovery software, back up all data of system drive, including system files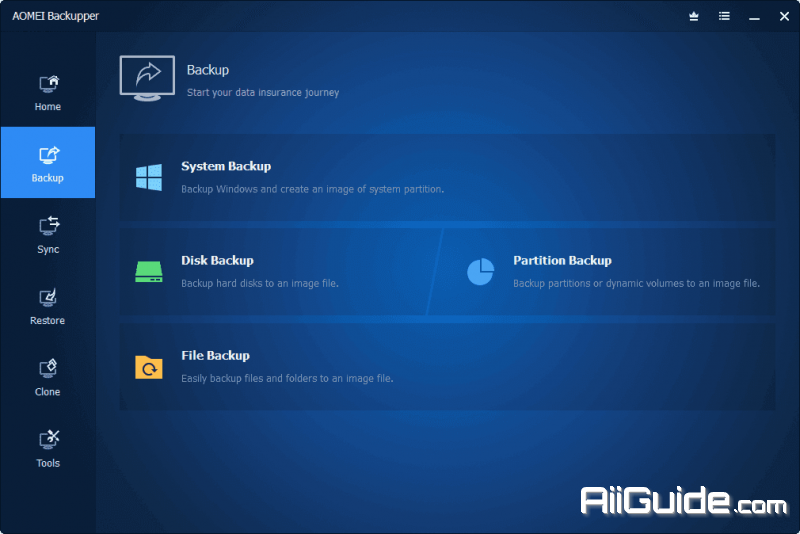 AOMEI Backupper is a professional-like, easy-to-use backup and recovery software. But is free for home users and commercial use, fully protects your computer from data loss. It lets you securely backup PC and Server, provides one-click backup your system partition or disk and does it in minutes. This software also can explore the created image and restore it to the hard drive if your data gets lost or corrupted. In addition, you can create a bootable rescue disk for recovering your data when the system crashes and the application cannot be accessed from the Windows interface.
The software already supports the Microsoft Volume Shadow Copy Service (VSS) that enables the data backup process and does not interfere the running applications. This option of AOMEI Backupper is very efficient because backup data can still be made when you're working. To prevent data loss, so we need to make data backup, AOMEI Backupper with the following features to ensure the safety of your data.
AOMEI Backupper 6 Features:
System Backup: One-click back up all data of system drive, including system files and installed applications without interrupting system run.
Disk Backup: Backup your hard disk drives including MBR disk, GPT disk, external hard drive, USB disk, and other storage devices that can be recognized by Windows.
Partition and Volume Backup: If you just want to backup a partition or volume, not the entire disk, the feature will be your best choice. With it, you can backup one or multiple partitions/volumes (including dynamic volumes) to an image file.
System Recovery: Easily and quickly restore system partition and ensure system bootable after completing the recovery process.
Disk and Partition Recovery: Reliably recover the whole hard disk drive, partition or dynamic volume to original state.
Selective file restore. Selectively restore individual files and folders from a backup image file without recovering the entire backup.
Disk Clone: Directly copy one hard drive to another without creating an image file. The program allows you to resize partitions during this cloning process, and supports to clone small disk to larger disk as well as copy traditional hard drive to solid state drive.
Partition and Volume Clone: Directly create an exact duplication of partition or dynamic volume and exactly transfer it to another partition or volume.
AOMEI Backupper Other Features:
Incremental and differential backups: Based on a full backup, the software supports to create incremental or differential backups to taking less time and save storage space.
Encryption and Compression: You can set a password for each backups to prevent unauthorized access. When the backup process, specify an industry leading compression algorithm to compress image file in order to take up less disk space.
Image file checker and explorer: Check data integrity of image file to ensure the backups can be restored successfully. Mount image files to a virtual partition so that you can browse the contents of the backups in Windows Explorer.
Comment Backups and Splitting Backups: Add comments to backups so that the backups can be further identified and clarified. Let you know what a backup is for or what it contains. Splitting Backups can split backup an image file into proper sizes to fit storage media.
Create Bootable Rescue Media: You can create a bootable media (e.g. CD or USB media) to restore system drive on the condition that Windows can not boot.
System Requirements:
Supported OS: Windows XP, Vista, Windows 7, Windows 8/8.1, Windows 10 (32-bit, 64-bit).
Storage Devices: Supports all storage devices recognized by Windows, such as IDE, SATA, SCSI, SSD, USB external disks, Hardware RAID and so on. Moreover, supports MBR and GPT style, and fully support capacities greater than 2TB.