Download Ashampoo WinOptimizer Free 26 for Windows - Accelerates, cleans and fixes your Windows system and Improve your security and protect your privacy in just a few click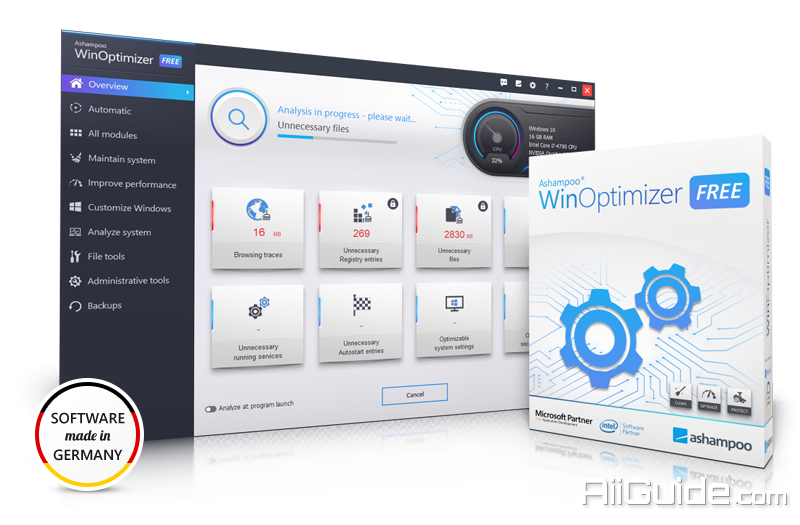 Ashampoo WinOptimizer Free accelerates, cleans and fixes your Windows system. It's not only a cleaner but also provides system maintenance, performance or customization utilities. Improve your security and protect your privacy in just a few clicks, also for Windows 10.
Ashampoo WinOptimizer FREE is the ultimate tuner and speed boost for your PC! This PC optimizer not only accelerates your PC but rids your machine of unnecessary services and processes. Ashampoo WinOptimizer FREE also cleans your startup folder for quicker boot times and more disk space. It's the perfect cleanup utility to make your PC faster so that it feels like new!
Ashampoo WinOptimizer FREE comes with extensive analytical capabilities that include not only disk space usage but also system and hard disk benchmarks to determine system, processor and HDD performance. Further information on system and hardware components is also available with in-depth details on installed hard and software. Is your PC acting up? Here's where you can get to the root of the issue!
When deleting sensitive data, it is essential that the files in question cannot be recovered. File Wiper eliminates files permanently and renders them irrecoverable, even for special data recovery tools. Ashampoo WinOptimizer FREE can also split up large files, e.g. to fit them onto separate storage volumes, and recover accidentally deleted files – unless they were wiped with File Wiper, naturally!
Features of Ashampoo WinOptimizer Free
Eliminate browsing traces
More OS and hardware details
Protect your privacy
Delete, encrypt and recover files safely
Optimize your Windows system with Ashampoo WinOptimizer FREE and get the fast, lean and secure system you always wanted!
System Requirements
It works perfect on Windows 10, 8, 7.
Free Hard Disk Space: 200 MB or more.