Download Auslogics Windows Slimmer 3 for Windows 7, 8, 10, 11 - Software can help you in this matter by running system cleaning and by allowing you to manage installed applications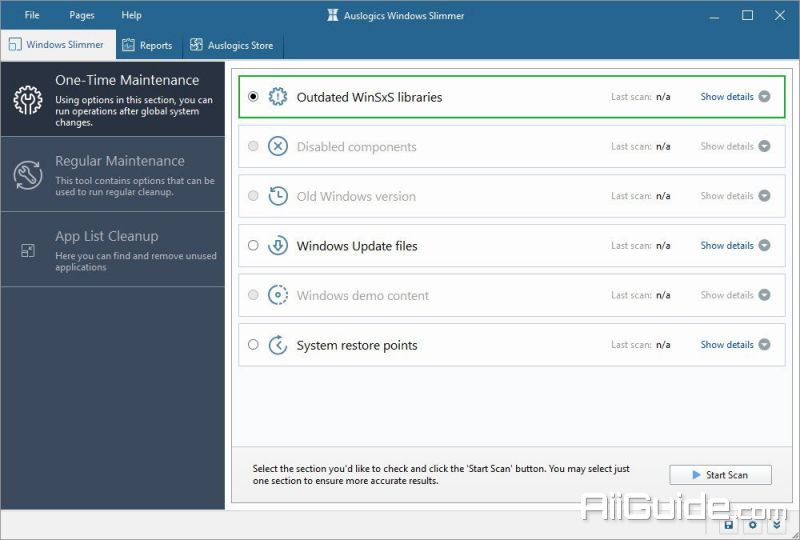 Auslogics Windows Slimmer Professional is a full-service option to clean up useless data, uninstall software including obsolete Windows versions. The goal here is to slim down non-essential data that is taking up precious space to help improve your machine's performance and speed. Over time your PC accumulates items that are no longer needed (or ever needed) including some non-optimal settings, unused system apps, in the background data transmitting options, etc., these take up space that waste resources and are detrimental to the overall efficiency of your machine.
Even after running regular junk cleanup, your Windows may still have hundreds of unneeded system files, apps and other items that may be weighing down your PC. Things like old System Restore points, Windows Update files, outdated Windows libraries or disabled system components may take up a ton of disk space and reduce performance. Run a checkup with Auslogics Windows Slimmer is available on aiiguide.com and give your operating system a proper deep cleanup.
Windows Slimmer gives you an easy way to remove unneeded Windows components, uninstall apps and tweak settings to make your operating system's footprint on your drive smaller, to reduce the amount of memory and CPU power it uses and to protect your privacy by preventing unnecessary data transmission.
Auslogics Windows Slimmer is a product of Auslogics Labs. Since 2008 the quality of Auslogics products has been recognized by major IT industry players, such as Intel and Microsoft, and highly rated by world-renowned IT experts. Over 10,000,000 users worldwide are currently enjoying the benefits Auslogics software provides for their computers.
Overview of Auslogics Windows Slimmer Professional 3 Features
Ultra-fast scanning engine
One-time maintenance
Regular maintenance
Notification settings control
System Requirements for Auslogics Windows Slimmer
Supported OS: Windows 7/8/10
Free Hard Disk Space: 200 MB or more