Download Auto Click Typer 2 for Windows XP, Vista, 7, 8, 10, 11 - a tool that helps you configure the auto clicking on your computer, generally used for playing game like Minecraft etc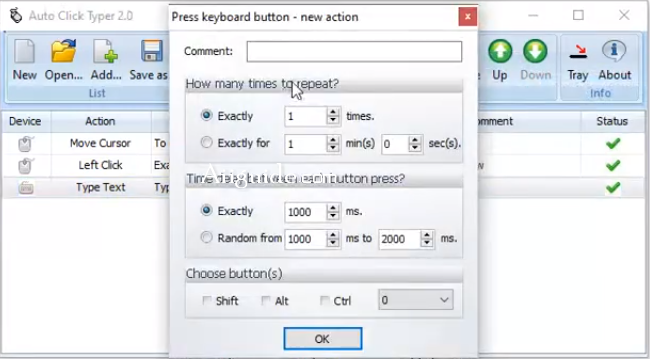 Auto Click Typer is a tool that helps you configure the auto clicking on your computer, generally used for playing game like Minecraft etc... In terms of functionality, Auto Click Typer is an application that automatically clicks the mouse like AutoClicker and records mouse and keyboard actions, and then automatically performs the same actions. Auto Click Typer helps users save a lot of time when they have to repeat photo editing, graphic design, game...
Fast Auto Clicker (Previously Auto Clicker Typer 2.0) is a free macro recorder software which automates your repetitive mouse and keywords tasks. Users can employ this software solution in case they need an easy way to automate their mouse and keyboard clicks. Fast Auto Clicker can perform multiple clicking functions at Fixed locations or any dynamic location. You can also set the no. of clicks your need at any specific location of your screen.
Features of Auto Click Typer:
Free macro recorder
User friendly interface
Ease of installation
Keyboard and mouse actions can be recorded and automated
Actions can be executed in a queue by hotkeys
Press "F9" to run; press "F10" to stop
The actions can be rearranged, edited and delayed
The list can be saved as an AUTOCT file.
How to Use Fast Auto Clicker:
The main window of Auto Clicker is user friendly and simplified so that it is accessible to the user. Using the software is comparatively straightforward and allows the flexibility of changing the sequence and duration of the actions while running the software. The list of actions created can be stored and reused by the user.
Installation of the Auto Clicker is a simple process that does not take much effort or time. However, one might want to be attentive since they will be offered to install another third-party software which is not needed by the AutoClicker in order to function smoothly. Allowing or declining the installation of the latter is a personal preference. After the choice is made, installation will be completed. The user can launch the software and start using Auto Clicker immediately after.
Auto clicker allows its user to perform Mouse functions like "Move cursor", "Right Click", "Left Click" and/or "Double Click". Besides, it also allows Keyboard functions like 'Pressing a keyboard button" or "Type text" (a complete multi line textual content may be typed out). The autoclicker allows its users to define the amount of time between two consecutive clicks by inserting a "Delay" duration. They can set the number of times they wish the repetitions to take place and also specify the total duration for which they wish the Auto Clicker to run.
Another thing this auto clicker software does, it lets its user add comments while adding any new mouse action that can serve as a reminder while the movement is carried out by the software. Each of these above actions get arranged in a sequential list, where they are executed on the basis of their position in the queue. The sequence of these actions can be changed by the user by moving the actions up and down the list. The actions can even be edited. This list of actions can be saved in AUTOCT file format and can be reused.