Download Balabolka 2 for Windows 11, 10, 8, 7, Vista - A Text-To-Speech (TTS) program. All computer voices installed on your system are available to Balabolka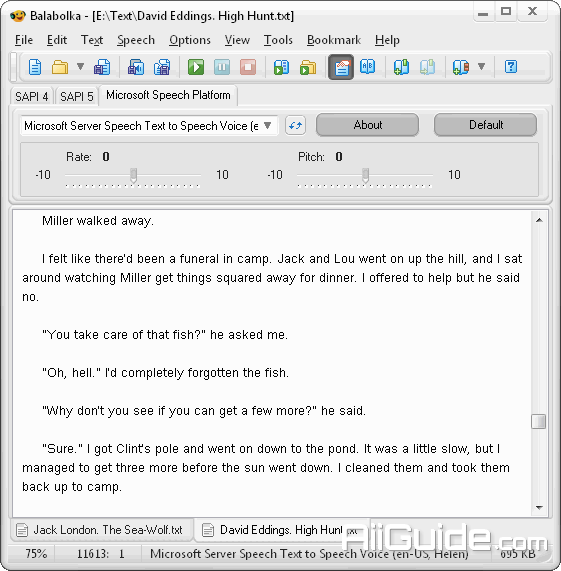 Balabolka for Windows 11/10 is one of the learning support programs on the windows operating system, it allows users to convert text into speech easily, users can convert documents in English language into wma format. , mp3 ... effectively. The program works well on windows operating system. That is why Balabolka is available on aiiguide.com supports listening and speaking English very effectively.
Balabolka supports converting documents in various formats such as TXT, EPUB, CHM, DOCX, DOC, HTM and HTML to audio formats where the text acts as lyrics in music files. The drag and drop is supported to help users browse text formats into the program window and convert them quickly with a few simple manipulations.
Balabolka comes with support for voice speed, pronunciation, volume, spell check, speech timing and text format. Users are allowed to customize the background color fonts, text fonts combined with voice tones to highlight important texts. The pronunciation editing rules are also integrated to change the spelling of words. Sound quality is also enhanced when using this utility.
Balabolka adds many tools that allow you to split files, convert items in audio mode, extract text from files, compare two compositions, repeat text, and integrate translation tools. to switch to a different language for the interface.
Features of Balabolka 2:
Convert text format to audio format
Customize how to read text according to user requirements
Set background color and font to highlight text
Split audio files
Integrated translation tools for language conversionell checking built in operating system.
System Requirements for Balabolka
Supported OS: Windows XP/7/8/10
Free Hard Disk Space: 200 MB or more.
Although the update did made ​​small changes, it is still better to upgrade to the latest release version, or use the latest portable version, in order to avoid any problems with the program. Choose the installation or a portable version, as you prefer.