Download Database .NET 35 for Windows - An innovative, powerful and intuitive multi-database management tool that can also export data to CSV, HTML, XML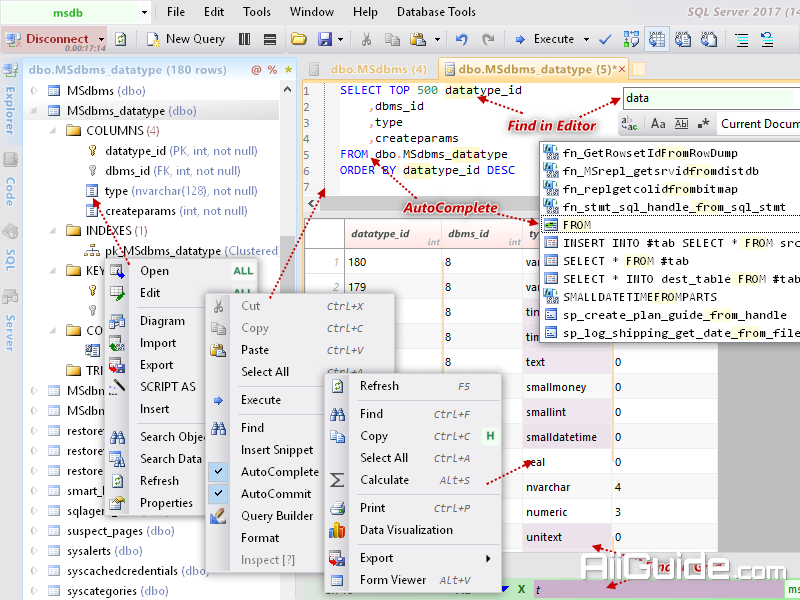 Database .NET is an innovative, powerful and intuitive multiple database management tool With it you can browse/grant objects, design tables, edit rows, run queries, generate scripts, analyze/monitor SQL and import/export/migrate/sync data with a consistent interface. The program includes a syntax enabled, tabbed SQL editor as well as several addition tools to perform basic database maintenance (shrinking, backup and process view). You can also export data to CSV, HTML, XML and several other formats.
The overall management features are mostly basic if compared to similar tools, however Database.NET supports a wide range of database connections, including Microsoft Access, Excel, SQLite, Firebird, dBase, OData, Generic OLEDB, Generic ODBC, SQL Server, LocalDB, SQL Server Compact, SQL Azure, MySQL, Oracle, IBM DB2, IBM Informix, PostgreSQL and Sybase ASE.
Database .NET Professional's built-in tabbed editor allows you to do syntax highlighting, line numbering, auto-completion, or quick insertion of code snippets; meanwhile, query builder supports writing and fast execution of database queries.
Features of Database NET:
Create and edit databases.
Syntax highlighting.
Supports multiple formats.
Management, self-completion of code.
Create query.
System Requirements:
Supported OS: Windows Vista, Windows 7, 8, 10 and higher
Free Hard Disk Space: 200 MB or more