Download Daum PotPlayer for Windows - Comprehensive freeware video and audio player, that also supports TV channels, subtitles and skins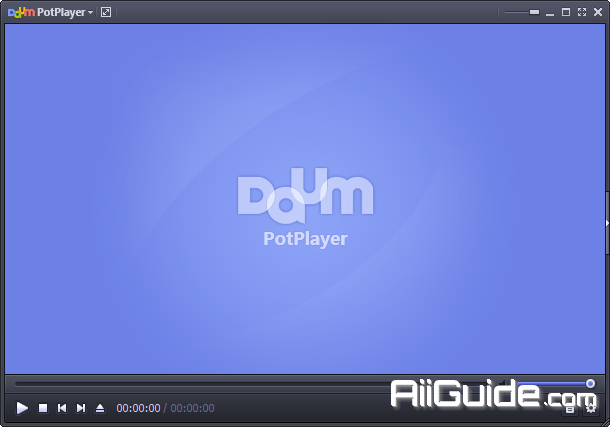 Daum PotPlayer is a comprehensive freeware video and audio player, that also supports TV channels, subtitles and skins. Done by the same Korean author as The KMPlayer. It works w/ madVR/HR/EVR and Reclock of course…it's a much improved/faster version of KMPlayer, including ffdshow and some other stuff to connect to a Korean-only video/chat network. Plenty of features and rich customization. It gives its users great control over its functions, allowing modification of the video speed, adjusting the audio volume, decrease or increase contrast and brightness. Also, several skins are available so that users can match the appearance of their video player to the theme of their OS. Player contains internal codecs and there is no need to install codecs manually.
The setup process guides you through a series of steps, which take very little of your time. Additional codecs are installed only if these are missing from your computer and not without your consent. However, codecs and encoders can also be configured through the application's preferences panel.
You need not worry whether or not the application is capable of opening a certain file, as it supports nearly all available formats. Ranging from AVI, WMV, MP4, 3GP, FLV, MKV in the video category, to MP3, WAV, FLAC, AAC, APE for music, and even commonly used playlists, tha application is sure to satisfy any requirement. The actual list of supported formats is considerably larger than the few mentioned examples.
The application puts several tools at your disposal in order to fully enjoy clips or songs. A control panel lets you carefully adjust several frequency sliders or put presets to good use, to get the most out of the audio. Moreover, your custom configurations can be saved for later use.
Features of Daum PotPlayer
Added support for 3D videos.
Adds support for touch functionality.
Added a conversion function to the built-in audio processing filter.
Fixed issue where menu appeared to be stopped by CD recognition.
Fixed a bug where recording was not working when video or audio codec was set to zero.
Fixed bug when enlarging video or changing edge ratio during video playback.
DXVA terms of use improved.
Fixed an issue where server play was not working.
Fix PNG recording error.
Fixed a bug when viewing logos in some environments.
Added ability to set short OSD information content (F5 = Normal = OSD).
Added ability to add subtitles folder with corresponding paths.
Advanced functions play AVCHD.
Fixed searching for some MKV files.
Pause and resume functions are added automatically to save CPU usage when minimized.
Advanced preferred language processing (subtitles / audio).
Fix OGM file playback error.
Fix some subtitles with false recognition.
Fixed screen crash when encrypting WMV2 files.
Fixed a bug when playing DVD. Thumbnail preview does not work.
An option has been added to the built-in split setting to use quick search on VBR encrypted files.
Fixed a bug where the screen went black when playing certain DVD subtitles.
Using the second device's audio input fixed the error.
Added the ability to skip chapters / bookmarks.
Add a sleep mode instead of the ability to turn off the computer.
System Requirements:
OS: Windows 7/8/10
Free Hard Disk Space: 200 MB or more.