Download Edraw MindMaster Pro 9 for Windows 7, 8, 10, 11 - Versatile, user-friendly and professional mind mapping tool. Available across multiple platforms, including PC, tablet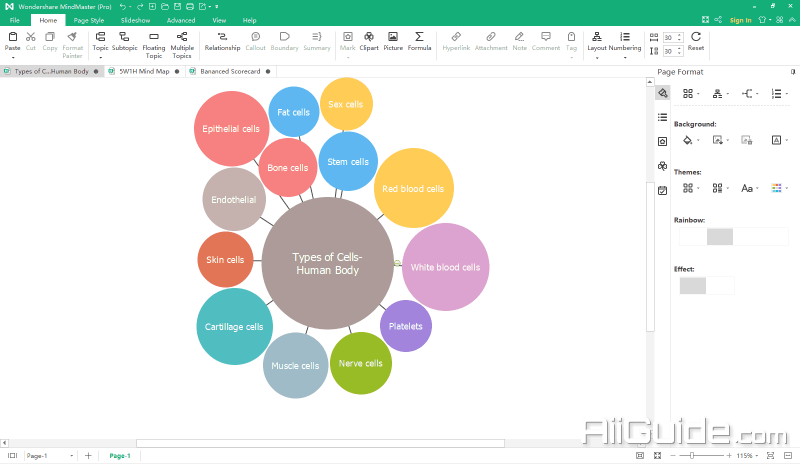 Edraw MindMaster Pro 8 is a versatile, user-friendly, and professional mind mapping tool. Available on multiple platforms, including PC, tablet, mobile, and web, you can create mind maps and access them from each platform. With this excellent collaborative mind mapping tool, working with teammates has never been easier.
Edraw MindMaster brings you an elegant user interface to organize ideas and information into a mind map with an enjoyable experience. The ribbon interface fits for common using habits of most users which doesn't take time to study. You can create mind maps super fast with intuitive function panel icons as well as quick keyboard shortcuts.
In MindMaster Pro, you can choose two different ways to present your map. The slide-based presentation mode lets users turn mind map branches into a set of slide pages automatically with one click. If you don't want to split your mind map into parts, you can choose the traverse presentation mode. It's more fantastic as you can present the whole map on a single page, and highlight special parts using the navigation keys.
Build Mind Map You Want
Choose the best structure, style, theme, and colors to express your ideas. Tailor your mind maps with endless possibilities.
12 Different Structures
In addition to the traditional radial map, we also have a treemap, fishbone, timeline, sector map, circle map, and bubble map.
33 Themes
Quickly find a suitable style with our 33 predefined themes. There should be one that can make your mind map stand out.
700+ Stylish Clipart
Use our ready-made clipart to decorate your mind maps and visualize your creative ideas.
Customize Every Detail
Change the fill, line, and branch color as you like. Choose different connection styles. Replace the topic shape with oval, hexagon, rhombus, star, and more.
Enrich Your Mind Map, Express Intuitively
Let your mind map speak loudly and accurately by adding more information such as callouts, relationships, summaries, marks, notes, hyperlinks, and so on.
Brainstorming Mode
With the brainstorming mode, you can conduct group brainstorming sessions effectively. Record ideas with different colors on the left pane, and later drag them to the right pane to generate a mind map.
Available on Multiple Devices
No matter your PC operating system is Windows, macOS, or Linux, you can easily view, edit and save your files. At the same time, you can use MindMaster on your mobile device and the web.
Export and Share
You can easily export your mind maps to other files such as Office, PDF, Evernote, and graphic files. Meanwhile, you can also share your fantastic work on Facebook and Twitter through the sharing links!
System Requirements and Technical Details
Windows 7, 8 , 10, Windows 2000, Windows XP, Windows 2003, Windows Vista
1 GB of RAM, 800 MB of hard disk space
Inter 1 G processor
1,024 x 768 or better monitor resolution
Mouse and keyboard.