Download Exportizer 9 for Windows 7, 8, 10, 11 - A tool for viewing, editing, filtering, copying, and exporting of local database files to DB, DBF, TXT, CSV, ASC and Lotus format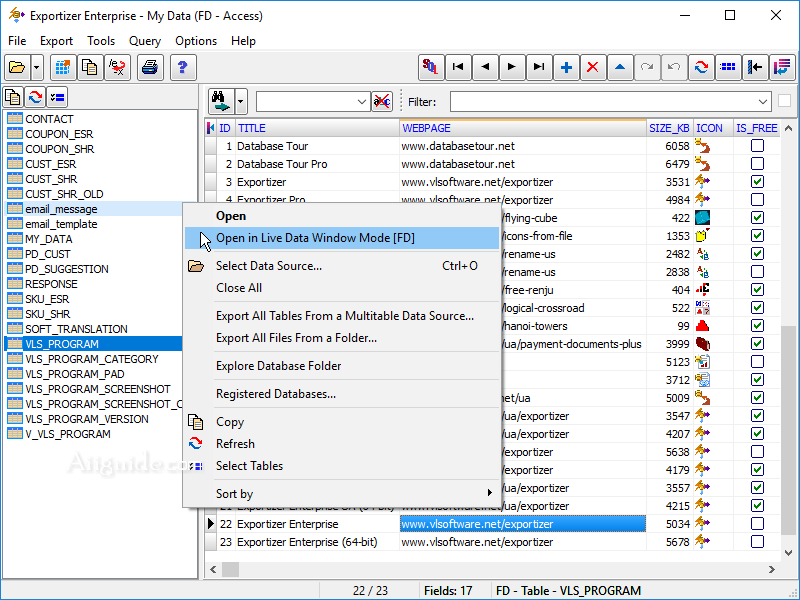 Exportizer is a tool for viewing, editing, filtering, copying, and exporting of local database files to DB, DBF, TXT, CSV, ASC and Lotus format as well as SQL insert statements. It supports export to the clipboard or conversion to CSV, TXT, XLS, RTF, XML, HTML or DBF file as well as SQL Insert statement. You can filter and sort the records, and optionally also combine multiple records into a single line when exporting the data. The program can also be used for simple inline editing and adding of new records.
Features of Exportizer
Export Multiple Tables
With Exportizer Pro, it is possible to export multiple database tables during a single export operation.
By default, the tables are exported to destination as one-to-one.
Export Multiple Tables to One Target
For some destination formats (e.g. HTML, XLSX, or any relational database), it is possible to export several tables to one target table or file.
Export Database Images and Blobs
This tool can automatically detect the most known image types (JPEG, PNG, GIF, BMP, ICO) in BLOB fields and export them, for example, to HTML or PDF. During the export, you can convert BLOB images to another image format.
Export BLOB Data
Generally, any BLOB/CLOB data can be exported into individual files, binary or text, within a single export step. For images, there is a possibility to change format (e.g. convert bitmaps from BLOBs into .png files) on the fly.
Export Calculated Fields
There is an ability to specify the source-to-target field mappings for export session. In the source part of them, you can use either physical fields from the source database or your own calculated fields (i.e. dynamically calculated expressions).
Supported source data types:
ODBC data sources;
Files of DB (Paradox), DBF (dBase, FoxPro), MDB, ACCDB, XLS, XLSX, GDB, IB, FDB, HTML, UDL, DBC, TXT, CSV types;
Databases specified by ADO connection strings;
Oracle, SQL Server, Postgresql, DB2, Informix, SQLite, Interbase, Firebird, Advantage Database Server, SQL Anywhere, MySQL, Visual FoxPro databases.
Supported destination data types:
File formats like text, CSV, JSON, XLS, XLSX, RTF, XML, HTML, PDF, DBF, SLK, SQL script (with INSERT, UPDATE, MERGE, or DELETE statements);
Relational database of any supported source type (see above).
For example, it is possible to convert dbf to txt, Paradox to xlsx, dbf to csv, SQLite to Excel, Access to HTML, Excel to Access, Interbase to MySQL, FDB to Excel, Oracle to PostgreSQL, and much more.
System Requirements:
Supported OS: Windows Vista, Windows 7, 8, 10 and higher
Free Hard Disk Space: 50 MB or more