Download FBackup 9 for Windows - A free backup and restore solution for Win OS designed to protect your valuable data from being lost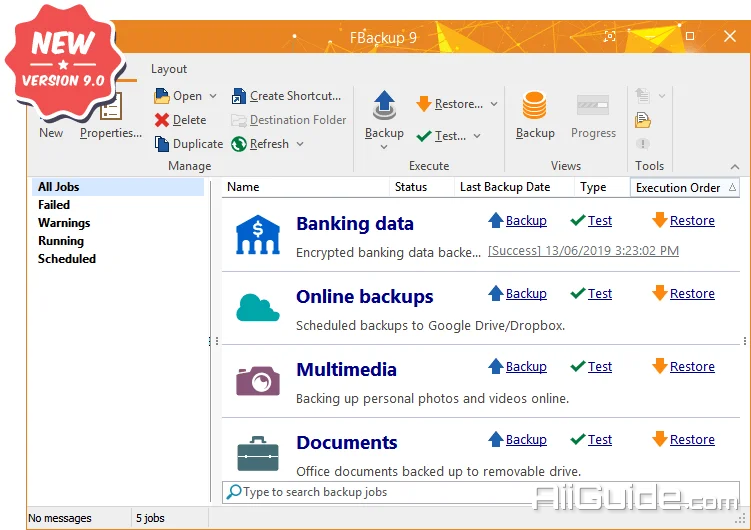 FBackup is a free backup and restore solution for Win OS designed to protect your valuable data from being lost. It automatically backs up and protects your files and folders with password and encrypted compression. What's more, FBackup is available on aiiguide.com is incredibly easy and obvious to have been created for novice users. With FBackup, you can make a backup to a local, external, or network drive.
This is a fairly simple backup solution and might lack some advanced features, but since it's free and very easy to use, we definitely recommend FBackup as an emergency backup to do. it was created. In addition, it offers a lot of features rich like that for a free program. It may not be the best solution for full system backup, but it is a powerful solution for backing up data.
Features of FBackup 9
FBackup is a backup software free for both commercial and personal use. This means that you can save some money by not having to buy another backup program.
You define a backup job, set it to run automatically, and forget about it. FBackup will automatically run the backup at the scheduled date, so you have the benefit not only of having your data protected, but you'll also save precious time.
When using the full backup type, the sources will be archived using standard zip compression. FBackup uses ZIP64 compression, which means that it can create zip files over 2GB in size. Furthermore, you can protect the zip file by requiring a password for extracting data from it.
If you don't want to have the files stored in one zip file, FBackup can make exact copies of the backup sources. Since FBackup will also back up empty folders, you can use this backup type to create in the destination a "mirror" copy of the original files.
FBackup automatically checks for updates weekly, so you'll know when a new version is released. The option to check for updates can be disabled, but we recommend to let it enabled so that FBackup will be up-to-date.
Multiple backup destinations. By default the location where your backups will be stored is the local windows partition. To be sure you have a secure backup, you'll need to store the backups on other destinations supported by FBackup (such as an external USB/Firewire drive, or on a mapped network drive). This way, if your computer would suffer a hardware failure, you'll have your data safe on an external location.
You can load plugins for backing up or restoring specific programs' settings or other custom data (like game saves, email data, etc.). Once loaded in FBackup, these plugins will add in the Predefined Backups list the sources needed to be backed up for that particular program.
If a file is in use by another program at the time of the backup, FBackup will still be able to back up that file, because it uses the Volume Shadow Service that Windows provides.
System Requirements
FBackup is compatible with Windows 8, 7, Vista, XP, 2000 and 2008/2003/2000 Server.
Free Hard Disk Space: 200 MB or more.