Download Filelist Creator 22 for Windows Windows, MacOS, Linux - Free application allows you to create content-based lists for user-defined directories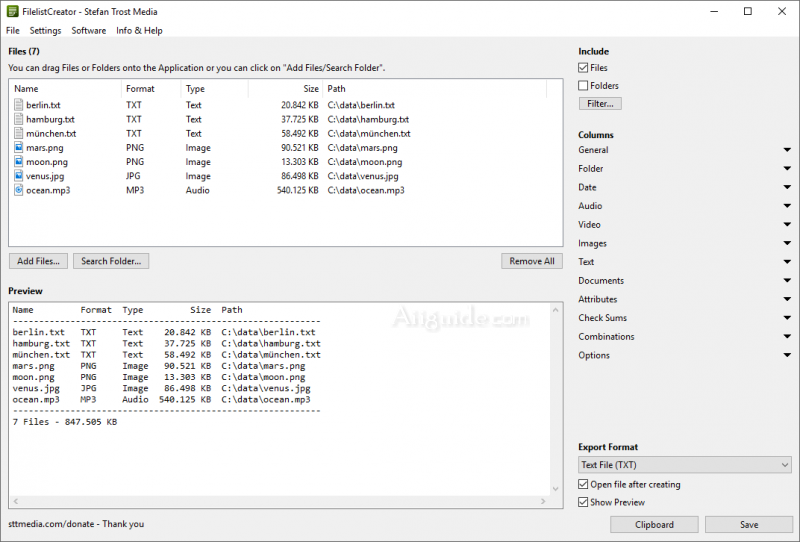 Filelist Creator allows you to create content-based lists for user-defined directories. Filelist Creator includes many optional settings like allowing you to determine which columns are used in which form in the table; you can specify how the design should look like and beyond, you can adjust the output as you need it: as XLSX or ODS spreadsheet for Microsoft Excel or OpenOffice, as HTML website, as an image, a CSV file, or, of course, as plain text.
The Filellist Creator is fully compatible with Unicode. This means that you can easily create lists of files that contain Unicode characters and you can use Unicode in all settings, such as in the headings of columns. Even when you save your list, all common Unicode formats and the ANSI format is supported.
Features of Filelist Creator:
Audio Files: The Filelist Creator can list audio tags and information such as artist, album, title, genre, track, disc number, year, comment, duration, bit rate, sample rate and channels of MP3, OGG, WMA, FLAC, WAV, APE, BWF, WV, SPX/SPEEX and OPUS files and is so able to create lists of your music collection.
Video Files: Also the listing of width, height, aspect ratio and frames per second (FPS) of video files is possible. Currently the formats AVI, MP4, FLV, M4V, QT and MOV are supported.
Images: With the FilelistCreator you can list the width, height, aspect ration, horizontal and vertical resolution, image count (for example for icons, GIFs or TIFFs) as well as the color depth/bit depth of PNG, JPG/JPEG/JPE/JFIF/JIF, BMP/DIP, GIF, TIFF, WEBP, ICO, CUR, PSD, PDD, PBM, PGM, PPM, PAM, PFM and PNM images.
Text Files: Text File Properties such as Encoding, Byte Order Mark, Line Break Type as well as Line, Character and Word Count can be listed.
Documents: The number of pages, the authors and the titles of PDF, DOCX, ODT, RTF and HTML documents can also be displayed in the list.
File attributes: Also file attributes such as file rating or information about whether a file is hidden or read-only or has a hidden extension can be listed.
Data carrier information: Information about the storage medium, such as the volume name of the hard drives or memory sticks, can also be displayed for the files and folders.
Date: The creation date, the last modified date, the last accessed date, and the last attribute change date can be added to the list (which date types are available depends on the operating system used).
Full Unicode Support: The entire Filelist Creator is capable of dealing with Unicode. This includes the file names, the folders and the created lists as well as all other text options, such as column headers or separators.
Direct HTML File Linking: If you want to create an HTML file list, you can link your files, so that you can directly access your files from the file list.
And more...