Download GoldWave 6 for Windows 11, 10, 8, 7, MacOS, Android - Professional audio player and processor that includes features like play and change playback speed, capture audio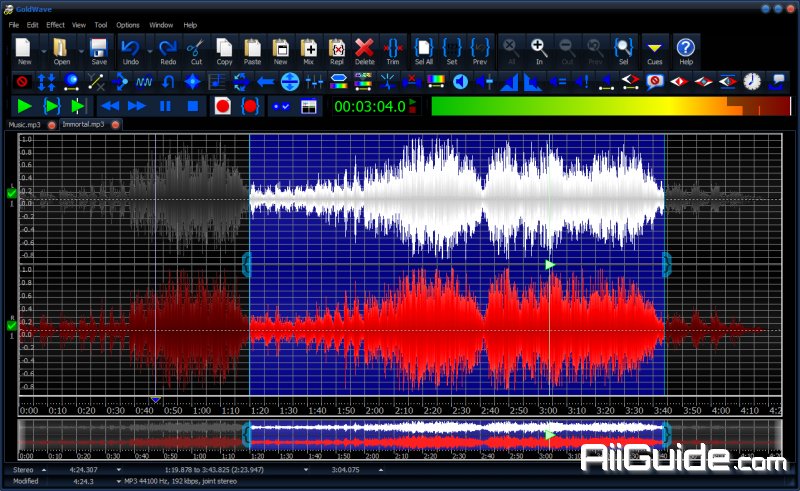 GoldWave is a professional audio player and processor that includes features like play and change playback speed, capture audio from a variety of sources on a computer, many basic and advanced audio editing tools. GoldWave is available on aiiguide.com is also a lyric ripping software that helps you create karaoke music easily, in addition to the function of adding sound effects, editing old recordings.
GoldWave offers users professional audio editing tools that are highly appreciated by many users, to perform complex processing, restoration, enhancement and conversion tasks. With GoldWave, you can listen to your favorite songs and view photos in real time, record any source from your computer, add rich sound effects, edit old recordings ...
GoldWave allows you to perform basic commands with audio such as Cut, Copy, Paste, Trim, Replace and Overwrite in no time or provide audio for PowerPoint presentations, dance shows. Effects are provided in real time that can be previewed before processing, noise reduction filters or Pop / Click to remove unsatisfactory audio files.
GoldWave is equipped with a set of powerful tools to support functions such as copying audio directly from a CD, merging multiple audio files together, merging effects, processing multiple files of any format. different. GoldWave supports the editing of digital audio files that are popular today, the program supports editing, coordinates new audio files including voices, music files, sounds from games, audio CDs. standard mono or stereo and produce a new, better quality sound file
GoldWave is one of the software that helps users edit MP3 files, the program provides a full range of options so that users can change the quality, change the pitch, pitch of the sound. The program also provides features that allow users to convert between popular audio formats such as MP3, MP2, AAC, WMA ... with fast conversion speed, good conversion quality. Along with GoldWave, AVS Audio Editor, ... all support good people in editing, editing and improving the quality of today's audio files. You can download AVS Audio Editor to experience and compare AVS Audio Editor and GoldWave to see which software is better.
Features of GoldWave 6
Play all your favourite songs
Record any source: Select the microphone, line-in, streaming audio or what you hear (loopback) built-in inputs.
Edit audio with all the familiar commands
Apply over 40 different audio effects
Use Noise Reduction and Pop/Click filters to clean up the audio and take out the buzz, hiss, crackle, and clicks.
Analyze audio with real-time visuals
Includes a collection of powerful tools
Process hundreds of files in a few clicks
Assign your own keystrokes for almost any function in the program.
Related software
Having the same function as GoldWave, Free Audio Editor supports editing and editing audio available in your computer, converting audio from specific formats to different audio formats, recording audio. burning to CD, Free Audio Editor software includes many special sound effects, capable of working on many different audio formats such as MP3, OGG, WMA, ACC, M4A, FLAC ... besides Free Audio Editor is free software, you can edit audio comfortably without worrying about copyright.
System Requirements:
Supported OS: Windows 7/8/10 (64-bit)
Free Hard Disk Space: 200 MB or more