Download IsMyLcdOK 5 for Windows XP, Vista, 7, 8, 10, 11 - A small program but effective solution to easily check for dead/paralysed/stuck pixels on LCD monitors
IsMyLcdOK quickly checks LCD monitors for dead, paralyzed, or stuck pixels. However, occasionally dead pixels can still be found - this tool makes the testing process for dead pixels very simple. It will allow you to run a series of color and gradient tests; each test has a corresponding hotkey to initiate them.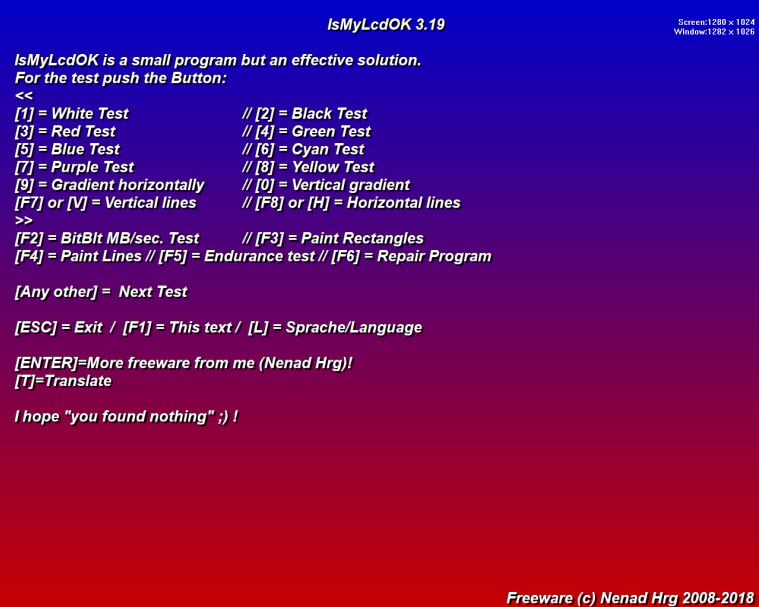 IsMyLcdOK requires no installation and can be executed efficiently from the desktop, or you can carry it with you on a small USB drive or another memory device.
Pixel Tester with different colors and gradient:
[1] = White Test
[2] = Black Test
[3] = Red Test
[4] = Green Test
[5] = Blue Test
[6] = Cyan Test
[7] = Purple Test
[8] = Yellow Test
[9] = Gradient horizontally
[0] = Vertical gradient
[F7] or [V] = Vertical lines
[F8] or [H] = Horizontal lines
Small graphics stress test:
[F2] = BitBlt MB/sec. Test
[F3] = Paint Rectangles
[F4] = Paint Linies
[F5] = Endurance test
Layout:
IsMyLcdOK is primarily designed to quickly become the main feature of the program and that is the search for dead or paralyzed pixels. It is a fairly simple and small test program that can be of great benefit to all PC users. This software requires no expertise in terms of monitors and LCD-s, nor any expertise in the field of screen technology. All PC users can benefit from IsMyLcdOK from the first second