Download Kaspersky Virus Removal Tool 20 for Windows - Detects and removes viruses and other infections that may have reached your computer provided by Kaspersky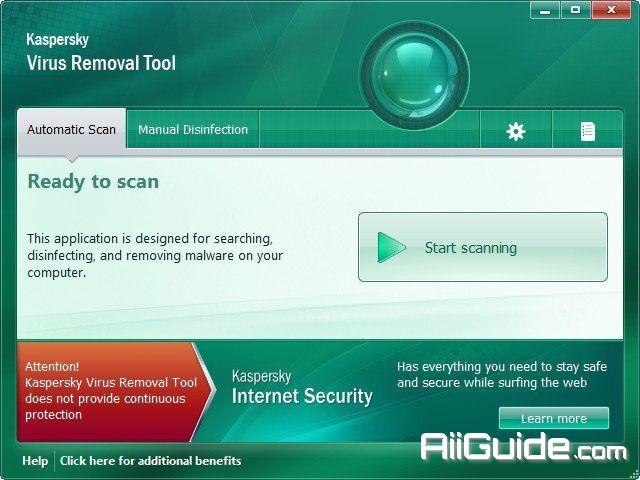 Kaspersky Virus Removal Tool application was designed to be another virus scanner and detection software from Kaspersky. The product will scan the specified locations for any virus threats and remove them or send to Quarantine folder. Kaspersky Virus Removal Tool is available on aiiguide.com - software developed by Kaspersky Labs to provide additional security against malicious programs. Kaspersky AVP Tool finds and cures: viruses, Trojans, worms, spyware and adware, all types of rootkits and similar malicious programs.
User-friendly layout of Kaspersky Virus Removal Tool software:
In terms of interface, Kaspersky Virus Removal Tool is intuitive, simple for users, only one Scan operation is enough to detect and scan viruses in the fastest time. With the application, you can select any file you want to scan, the application will help you, it even scans the file at risk of virus infection.
Kaspersky Virus Removal Tool provides a variety of scanning modes for your system including quick scan, normal scan, full system scan and custom scan mode as you like. Depending on the current status of your computer, you can choose the appropriate mode to help kill viruses right on severely infected computers.
Kaspersky Virus Removal Tool helps to handle unexpected situations on your computer such as: freezing, frequent restarting, receiving complaints via facebook or email. The software supports choosing the data location that you want to find and remove viruses, saving time when you do not have to check the entire system.
Features of Kaspersky Virus Removal Tool:
Excellent detection of malicious programs and strong ability to remove.
Simple and intuitive interface.
Can be installed on an infected system (in safe mode).
Comprehensive testing and treatment: the search for malware signature detection and heuristic analyzer.
Collect system information and interactive scripting.
Automatic and manual removal of various types of malicious programs.
Attention:
Kaspersky AVP Tool is designed to quickly find and isolate files, but can not be used as a permanent means of virus protection. To ensure the security of your computer must have to have another "normal" anti-virus with the means of protection in real time.
System Requirements:
Supported OS: Windows XP/Vista/7/8/10 (32-bit or 64-bit)
Free Hard Disk Space: 500 MB or more.