Download LosslessCut 3 for Windows 11, 10, 8, 7 (64-bit only), MacOS, Linux - A video editor for lossless trimming and cutting of videos without losing quality, Simply load the video file and use
LosslessCut is a video editor for lossless trimming and cutting of videos without losing quality. Simply load the video file and use the start/stop cut marks to specify the section that you want to cut. Click on the cut icon and the marked section will be exported to a new video file without any decoding or encoding.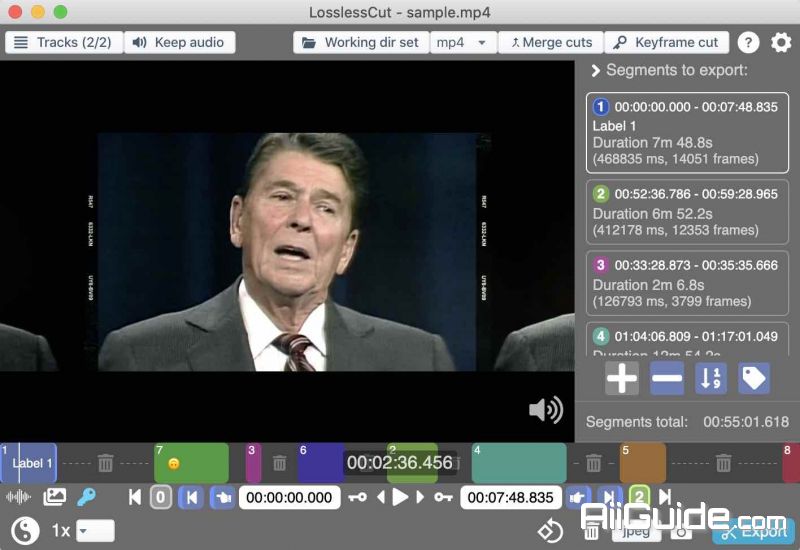 You can also use the program to take a quick JPEG snapshot of a scene. LosslessCut uses ffmpeg (included) for doing all the grunt work.
The main feature is lossless trimming and cutting of video and audio files, which is great for saving space by rough-cutting your large video files taken from a video camera, GoPro, drone, etc. It lets you quickly extract the good parts from your videos and discard many gigabytes of data without doing a slow re-encode and thereby losing quality. Or you can add a music or subtitle track to your video without needing to encode. Everything is extremely fast because it does an almost direct data copy, fueled by the awesome FFmpeg which does all the grunt work.
Features of LosslessCut
Lossless cutting of most video and audio formats
Losslessly cut out parts of video/audio (for cutting away commercials etc.)
Losslessly rearrange the order of video/audio segments
Lossless merge/concatenation of arbitrary files (with identical codecs parameters, e.g. from the same camera)
Lossless stream editing: Combine arbitrary tracks from multiple files (ex. add music or subtitle track to a video file)
Losslessly extract all tracks from a file (extract video, audio, subtitle and other tracks from one file into separate files)
Remux into any compatible output format
Take full-resolution snapshots from videos in JPEG/PNG format
Manual input of cutpoint times
Apply a per-file timecode offset (and auto load timecode from file)
Change rotation/orientation metadata in videos
View technical data about all streams
Timeline zoom and frame/keyframe jumping for accurate cutting around keyframes
Saves per project cut segments to project file
View FFmpeg last command log so you can modify and re-run recent commands on the command line
Undo/redo
Give labels to cut segments
View segment details, export/import cut segments as CSV
Import segments from: MP4/MKV chapters, Text file, YouTube, CSV, CUE, XML (DaVinci, Final Cut Pro)
Video thumbnails and audio waveform
Edit file metadata and per-stream metadata
Cut with chapter marks
Example lossless use cases
Cut out commercials from a recorded TV show (and re-format from TS to MP4)
Remove audio tracks from a file
Extract music track from a video and cut it to your needs
Add music to a video (or replace existing audio track)
Combine audio and video tracks from separate recordings
Include an external subtitle into a video
Quickly change a H264/H265 MKV video to MOV or MP4 for playback on iPhone
Import a list of cut times from other tool as a EDL (edit decision list, CSV) and run these cuts with LosslessCut
Export a list of cut times as a CSV EDL and process these in another tool
Quickly cut a file by its MP4/MKV chapters
Quickly cut a YouTube video by its chapters (or music times from a comment)
Change the language of a file's audio/subtitle tracks
Change author, title, GPS position, recording time of a video
Fix rotation of a video that has the wrong orientation flag set
Great for rotating phone videos that come out the wrong way without actually re-encoding the video.
Loop a video / audio clip X times quickly without re-encoding
Advanced multi-step workflows:
1: Open a file an export all tracks as individual files
2: Open the exported track files independently and cut them as desired
3: Add the track back to the video and combine them to one output video
Supported formats
Since LosslessCut is based on Chromium and uses the HTML5 video player, not all FFmpeg supported formats will be supported smoothly. The following formats/codecs should generally work: MP4, MOV, WebM, MKV, OGG, WAV, MP3, AAC, H264, Theora, VP8, VP9 For more information about supported formats / codecs,..