Download MetaX 2 for Windows XP, Vista, 7, 8, 10, 11 - Movie tagging program for MP4, M4V and MOV files for easy video file management and search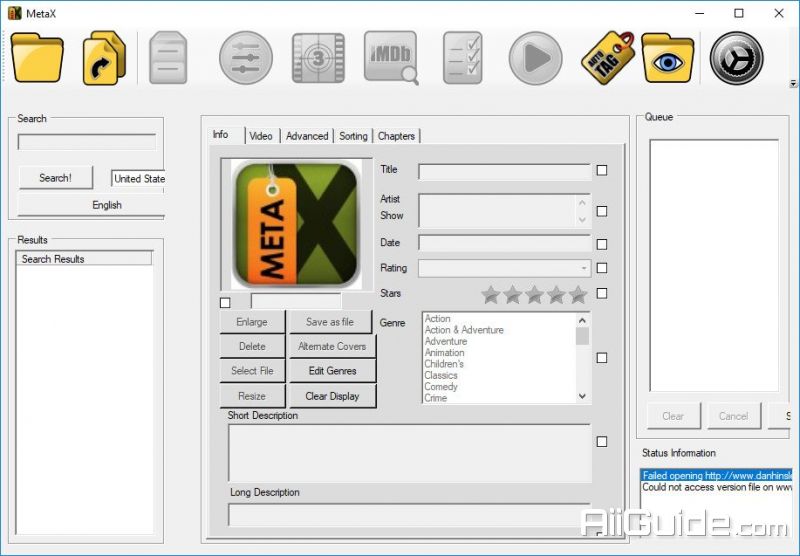 MetaX is a Windows movie tagging program for MP4, M4V and MOV files. You can search both Amazon and tagChimp, as well as IMDB and Yahoo posters for information and then write that information into the file so that it is displayed in iTunes, on Apple's Front Row or on an Apple TV.
After downloading MetaX is available on aiiguide.com and doing some quick installation operations, you will see a well-balanced, intuitive working interface. The main window is divided into smart panels allowing you to quickly search various web pages, check video information, categorize preferences, view listings, and track status boxes for more information. your action.
The MetaX application allows adding video in the working environment using the built-in browse button. Moreover, for each clip added to the list, you can choose the most suitable category, such as movies, TV shows, song videos ... You can set the above options in the default mode. or separately for selected clips.
Features of MetaX
Intuitive and balanced working interface
Label movie formats, such as MP4, M4V, MOV, MKV, WMV and AVI
Collect Internet insights, video data and advanced Podcast parameters
Provides many options in default or separate mode for selected clips
MovieLibrary is a companion program to MetaX that creates a database of all your movies that you can search, categorize and print
MovieLibrary will backup (just copy) or archive (copy and then delete) a selection of your movies.
System Requirements:
Supported OS: Windows 7/ Windows 8/ Windows 8.1/ Windows 10
Free Hard Disk Space: 200 MB or more.