Download NetSetMan 5 for Windows - Manages network configuration settings, allowing users to switch between network profiles on the computer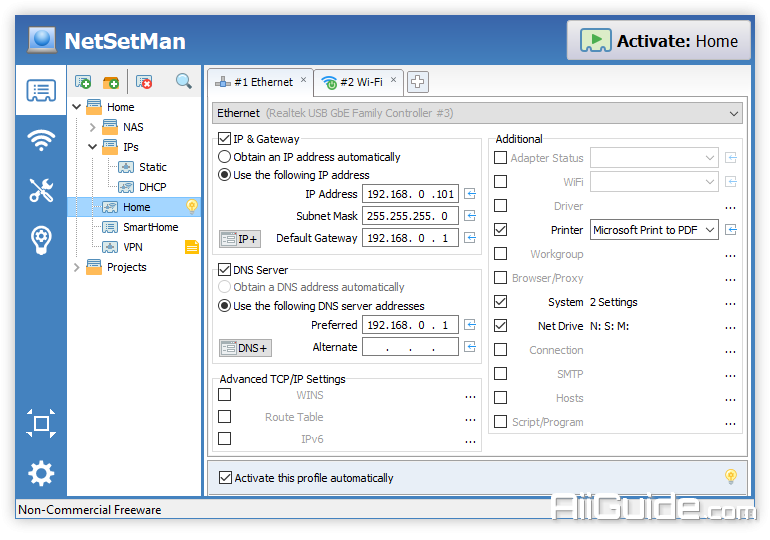 NetSetMan is a program that manages network configuration settings, allowing users to switch between profiles including the following information: IP Address, Subnet Mask, Default Gateway, DNS Server, WINS Server, Computer Name , Workgroup, DNS, Default Printer, Network Drives, NIC Status, SMTP Server, Hosts File Entries, Scripts (BAT, VS, JS,...)
NetSetMan is not only useful and effective but also easy and intuitive to handle. The entry fields remind of the Windows "Internet Protocol (TCP/IP) Properties" but it's much easier to fill in the adresses. In addition, setup information can make data extraction and import easy, stored on different devices to keep them safe in the worst case scenario including user updates. different operating systems.
To hide your computer's IP address when accessed in a public place, you can use Hide My Ip to do this job. Hide My Ip allows you to change IP addresses in many different countries in the world to help you avoid the look of many malicious spyware.
Features of NetSetMan
Change ip address, network configuration, computer information
Save the network configuration for use as needed
Extract and save the configuration file on another device
Compact and easy to use.
System Requirements
Supported OS: Windows XP/7/8/10
Free Hard Disk Space: 200 MB or more.