Download Network Monitor II 31 for Windows XP, Vista, 7, 8, 10, 11 - A good network monitor, it provides users with detailed information about the wireless and wired network you are using
Network Monitor II enables monitoring of your internet connection status and activity. It gives you a quick view of outgoing and incoming speed, upload and download traffic, information about the level and source of the Wi-Fi connection, internal and external IP (with country flag), GateWay, and DNS.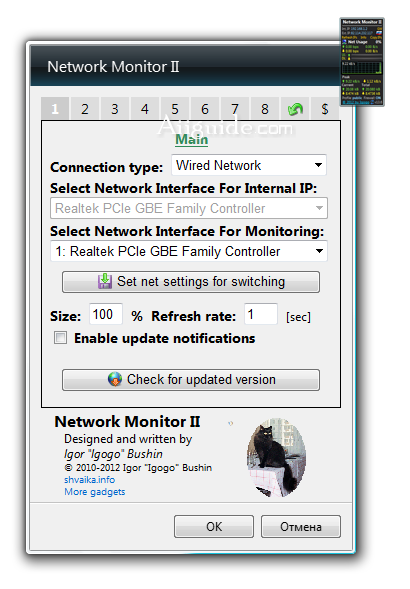 Network Monitor will show your internal IP in a convenient window, you can also find out the external address of your personal computer i.e. the IP that you show on the Internet. If the widget contains information about the country with your IP address, the flag of that country will be displayed opposite it. Network Monitor will allow you to update the IP address, according to the developers, this is very convenient if the user has a dynamic address, you can also clone your IP without any problem, all however if necessary.
There is other useful information, for example, you can find out the percentage of network usage, it is calculated based on the full bandwidth of the port that you are using. Of course, you can find out the speed of both incoming and outgoing connections, the information can be both in bits and kilobytes, you can set the value and megabytes per second, as it is more convenient for anyone. The utility remembers the maximum incoming and outgoing connections and it also displays this information in the same window. Network Monitor calculates how much traffic you used during a session, i.e., as long as there are no disconnections, you will know exactly how many megabytes were used.
In general, the utility is quite convenient in operation, it has a large number of different types of settings, all of them are easy to manage, without any problems.
Network Monitor II features:
Show internal and external IP addresses
Check transfer speed
Check bandwidth
Customize interface colors
Support on wireless and wired networks
Automatically update changes
View traffic history.