Download NK2Edit 3 for Windows XP, Vista, 7, 8, 10, 11 - View the list of Outlook auto-complete entries that are stored each time you type an email address into the `To` field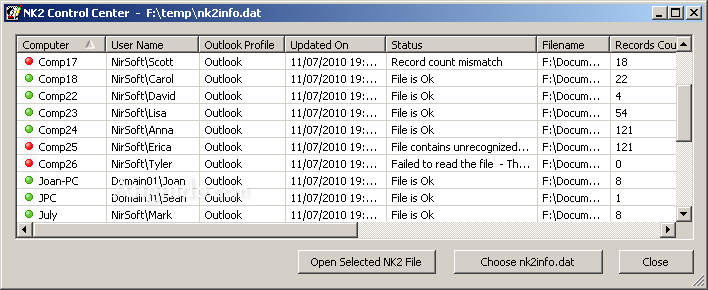 NK2Edit enables you to view the list of Outlook auto-complete entries that are stored each time you type an email address into the `To` field. Every time that you type an email address or name in the message window of MS-Outlook, it automatically offer you a list of users and email address that you can choose.
This program allows you to view, sort and edit the list of entries, delete unwanted items and optionally export them to HTML, Text or XML format. NK2Edit reads the .NTK file that is used by Outlook to store these entries. Works with Outlook 2003, Outlook 2007, and Outlook 2010.
Features of NK2Edit:
Easily modify or fix all information stored in the NK2 file, including the display name, the email address, the exchange string, the Drop-Down display name, and the search string.
Easily remove unwanted single quote characters from the display name and from the Drop-Down list.
Delete unwanted emails, as well as add new emails, by typing them manually, or by choosing them from the address book of Outlook.
Copy NK2 records from one NK2 file to another - simply by copy and paste !
Build a completely new NK2 file and add the desired emails into it, by typing them manually, by adding them from your address book, or by copying records from another NK2 file.
Extract data from corrupted NK2 files that Outlook cannot read anymore (When Outlook AutoComplete stopped working) and even repair them so Outlook will be able to read them again.
Export all data stored in the NK2 file into a special Unicode text file in a structure similar to .ini file of Windows. You can open it any text editor you like, make the changes you need, and then convert it back into NK2 file that Outlook can use.
Export the emails information stored inside NK2 file into HTML/Text/csv/xml file.
Export the emails information stored inside NK2 file directly into the contacts of Outlook.
Copy the selected NK2 records in tab-delimited format and then paste the information into Excel.
Change the order of the records in the NK2 file, which also affects the order they appear in the drop-down. You can also sort the list in alphabetical order of the Drop-Down display names. (However, be aware that Outlook change the order again when the user send emails)
Command-Line Support: Write simple scripts that can add, remove, or modify records inside the NK2 file, without displaying any user interface.
NK2Edit is a portable application that can be used from any computer with Windows operating system (Starting from Windows 2000) without need of any installation process, and without making changes in the Registry.
NK2 Control Center - Allows you to watch to location and the status of all NK2 files in your organization.
System Requirements:
NK2Edit works on any version of Windows, starting from Windows 2000 and up to Windows 10. NK2Edit is a Unicode based application, and thus it cannot work under Windows 95/98/ME.
NK2Edit can read, write, and create NK2 files for Outlook 2003, Outlook 2007, Outlook 2010, Outlook 2013, and Outlook 2016.
Outlook installation is not required on the computer that you run NK2Edit, except of some features that require access to Outlook profile, like "Add Records From Address Book" and "Export To Message Store" , which cannot work without Outlook. NK2Edit can also be used to open, edit, and save NK2 files on remote computers in your network, as long as you have read/write permission to the remote NK2 file.