Download Notepad3 5 for Windows - The latest programming tool replaces the version of Notepad 2 with a lot of features type numbering, syntax highlighting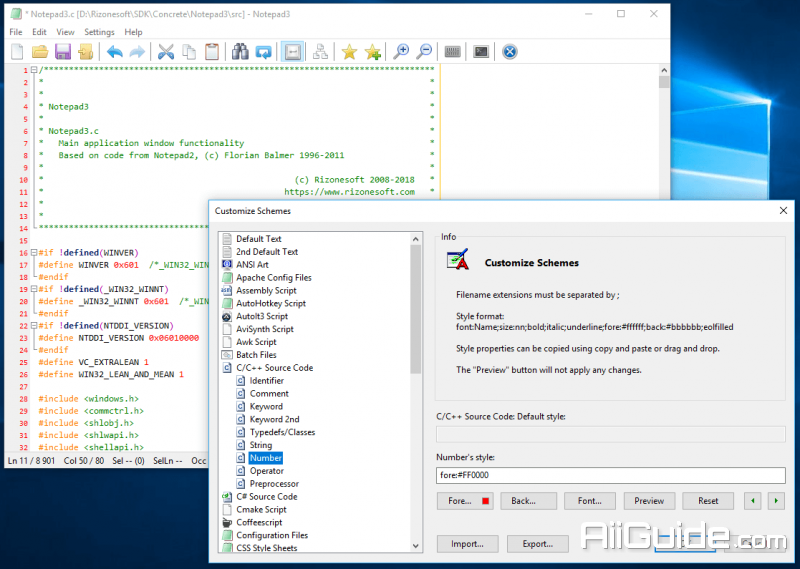 Notepad3 is a fast and light-weight Scintilla-based text editor with syntax highlighting. It has a small memory footprint, but is powerful enough to handle most programming jobs. Notepad3 is available on aiiguide.com has the following features: code folding, bracket matching, automatic indentation, word auto-completion, convert character encoding between various formats (ASCII, UTF-8, and UTF-16), newline format conversion (between DOS (CR/LF), Unix (LF), and Macintosh (CR) formats), multiple undo or redo, bookmarks, and regular expression-based find and replace.
Previously we mentioned that Notepad3 can handle almost any programming job and we are not lying. Just take a look at the list of supported programming languages below and spot your favorite. It offers syntax highlighting support for ASP, assembly language, AutoHotkey, AutoIt3, AviSynth, Bash, BAT, C, C++, C#, CMake, CoffeeScript, Common Gateway Interface (CGI), Cascading Style Sheets (CSS), DIFF, HTML, INF, INI, Inno Setup, Java, JavaScript, LaTeX, Lua, Markdown, NSIS, Pascal, Perl, PHP, Python, REG, Ruby, SQL, Tcl, Visual Basic (VB), VBScript, VHDL scripts, XHTML, XML, YAML and improved support for NFO ANSI art.
Features of Notepad3
Support fast and professional programming tools for programmers
Support multi-language programming
Support drag and drop content block editing
Compatible with many versions of Windows from Windows XP and above
Drag and drop to edit and edit content.
System Requirements:
Supported OS: Windows 7/8/10
Free Hard Disk Space: 100 MB or more.