Download OCTA GST 10 - An offline GST return filing software, designed for all tax professionals and business types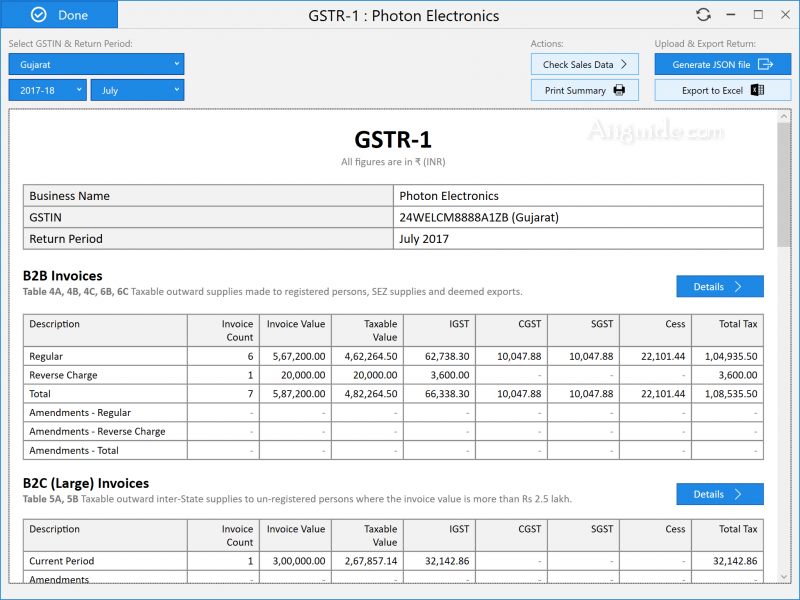 Octa GST is an offline GST return filing software, designed for all tax professionals and business types. It offers an accurate GST compliance experience to its users and enables them to file returns efficiently. This application has a selected panel of taxation and financial industry experts, along with the Silicon India Editorial Board, to provide its users with advanced features for GST-compliant accounting.
Octa GST assists its users to prepare GSTR-9, GSTR-1, GSTR-4, and GSTR-3B. The software uses built-in high-performance JSON to Excel Converter to convert the major GST forms downloaded in JSON formats from the Govt GST portal. It also enables the user to access annual consolidated reports of the entire financial year.
Functions of OCTA GST:
GSTR-2A & Purchase Reconciliation
Unmatched high performance & smart reconciliation
Supplier level (party-wise) or invoice level reconciliation
Reconcile for month, quarter, financial year or all transactions
Option to include/exclude reverse charge invoices
Option to ignore the small differences to focus on significant differences only.
Smart linking of invoices based on invoice number patterns. Link and compare invoices even if invoice numbers does not match.
Export mismatch report in Excel format. Include or exclude the invoices based on mismatch status.
GST Returns Annual Report
Simple and comparative summary of GST returns
Single consolidated Excel report
Month-wise consolidated report of GSTR-1, GSTR-2A and GSTR-3B
Month-wise comparison report of GSTR-3B vs GSTR-1 and GSTR-3B vs GSTR-2A
Seperate heads of different tax types
Seperate heads depending on nature of transactions
Process lakhs of transactions in seconds
Prepare Accurate GST Returns
Auto-generate GST returns, apply validations, keep history
Data import from multiple sources
Auto-calculates the return data from sales/purchase transactions
Full support of amendments in GSTR-1
Run validation rules before return preparation to avoid mistakes in filing
ITC claim reminder/notification
Return preview and analysis
Generate Excel report to share with clients/other users
Use Octa EwayBill Tool: Free Octa E-waybill tool for bulk generation of e-waybills.