Download Password Safe 3 for Windows - Allows you to safely and easily create a secured and encrypted user name/password list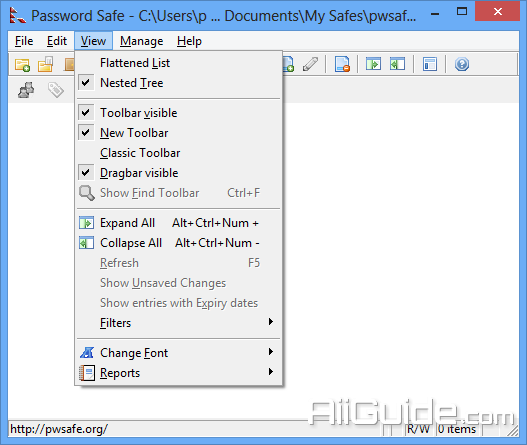 Password Safe is a free and open-source password manager program for use with Microsoft Windows. A beta version is also available for Ubuntu (including the Kubuntu and Xubuntu derivatives), Debian and FreeBSD operating systems. A Java-based version is also available on SourceForge. On its page, users can find links to unofficial releases running under Android, BlackBerry, and other mobile operating systems.
Password Safe makes it so you can organize your passwords using your customizable references for example, by user ID, category, web site, or location. You can choose to store all your passwords in a single encrypted master password list (an encrypted password database), or use multiple databases to further organize your passwords (work and home, for example). And with its intuitive interface, you will be up and running in minutes.
Store and manage passwords, pin, accounts, access data, securely etc.
Categorize entries in Password Safe
Access via a single master password
Use Password Generator to create secure passwords
Backup and restore encrypted databases
Customizable user interface
statistical
auto delete the clipboard (limited on some devices)
Password Generator-widgets utility
Automatic local backup
Import / export csv
Show weak strength of passwords.
System Requirements:
OS: Windows 7/8/10
Free Hard Disk Space: 200 MB or more.