Download Playnite 10 for Windows 7, 8, 10, 11 - An open source video game library manager with one simple goal: To provide a unified interface for all of your games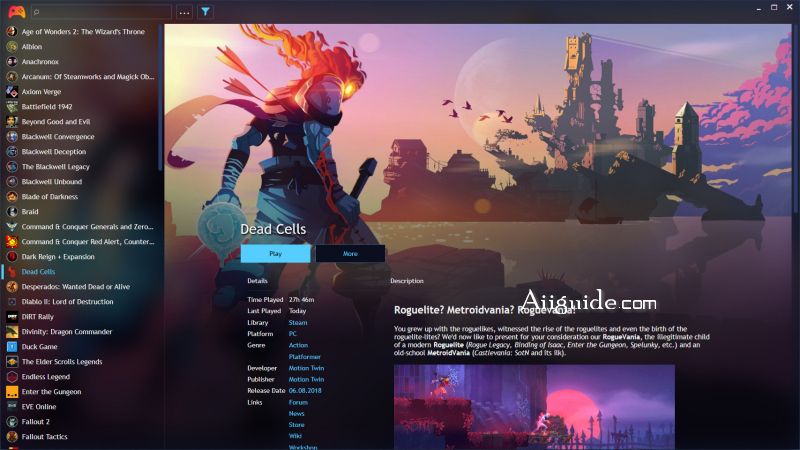 Playnite is an open source video game library manager and launcher with support for 3rd party libraries like Steam, GOG, Origin, Battle.net and Uplay. Includes game emulation support, providing one unified interface for your games.
Features of Playnite:
Import popular libraries
Link games from Steam, Epic, Origin, GOG, Battle.net, Uplay, Twitch, Bethesda and itch.io, including games that are not installed! Microsoft Store (Xbox App) games are also supported. Click here for a full list of features supported from each service.
Emulation support
Playnite supports a wide variety of console emulators.
Themes
Playnite's look can be fully customized, from simple color changes to complete layout re-designs.
Extensions
Playnite can be extended with plugins (written in .NET languages) or by scripts (PowerShell and IronPython are currently supported).
Fullscreen mode
Fullscreen mode with full controller support is available.
Playtime counter
Playnite tracks your time in-game (any game including emulated ones).
Fast
Playnite's user interface is fast and light on resources, even with large libraries.
Portable
Playnite can run from portable storage without need of installing system dependencies.
Completely Free
No Playnite features are locked behind a paywall and the complete source code is available under the MIT license.
Safe and private
Playnite doesn't store any user information on remote servers. All information about your library is stored locally on your PC. When linking account we only save the same amount of information as when you sign-in into related library/store via web browser.