Download Quick Access Popup 11 for Windows - QAP allows you to move quickly between your frequently used Folders and files, documents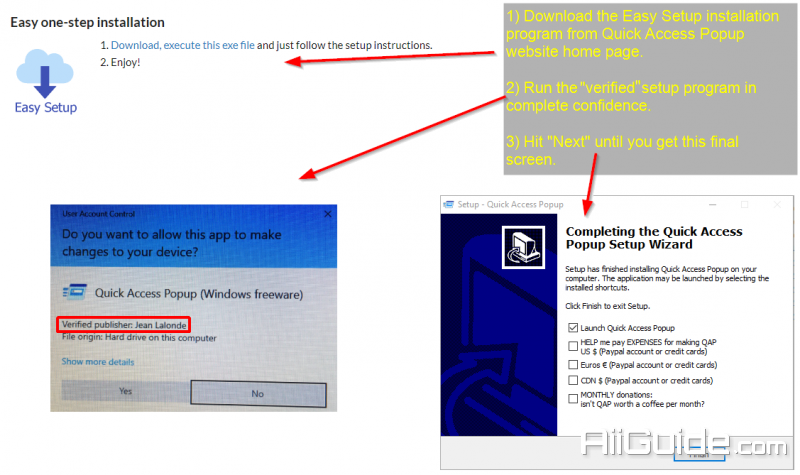 Quick Access Popup (QAP) lets you move like a breeze between your frequently used FOLDERS, DOCUMENTS, APPLISave thousands of clicks while browsing your favorite folders in Windows Explorer or file dialog boxes. Launch your most used applications, documents or web sites instantly with this easy popup menu and mouse/keyboard shortcuts manager.
To launch the popup menu, click the QAP icon in the Notification zone, hit the Middle Mouse Button or press Windows+W (these triggers can be changed in Options). In the SETTINGS window, customize your QAP menu. Review shortcuts assigned to favorites or submenus in the HOTKEYS window.
In the OPTIONS dialog box, choose your preferred language, menu icons size, windows colors. Select the number of recent folders to display, add numeric keyboard shortcuts to the folders menu or shortcut reminders. Pin the popup menu at a fix position or remember the Settings window position.
All this for free in very intuitive app. Quick Access Popup is available on Windows 7 and more recent. Works with Windows Explorer, Directory Opus, Total Commander and 15 other file managersCATIONS, WEB PAGES and much more!
Quick Access Popup main features:
Quick access to folders.
Create a menu containing shortcuts.
Assign a separate name to each folder.
System Requirements:
Quick Access Popup was designed for all international versions of Windows 7, Windows 8/8.1 and Windows 10, both client and server versions, with Explorer windows, File Dialog Boxes (Open, Save As, etc.), Console Window (CMD command prompt and PowerShell) and many popular alternative file managers.
Users of Windows XP and Windows Vista are invited to use Folders Popup, previous version of Quick Access Popup, that is still supported for these OS.
At least once every two weeks, an Internet connection is required to check the licence.
Quick Access Popup is available in: English, French, German, Italian, Spanish, Dutch, Portuguese, Brazilian Portuguese, Korean and Chinese.