Download Revo Uninstaller Free 2 for Windows XP, Vista, Server, 7, 8, 10 - A free Windows software removal application, equipped with powerful and optimized algorithms, capable of cleaning the leftovers after removal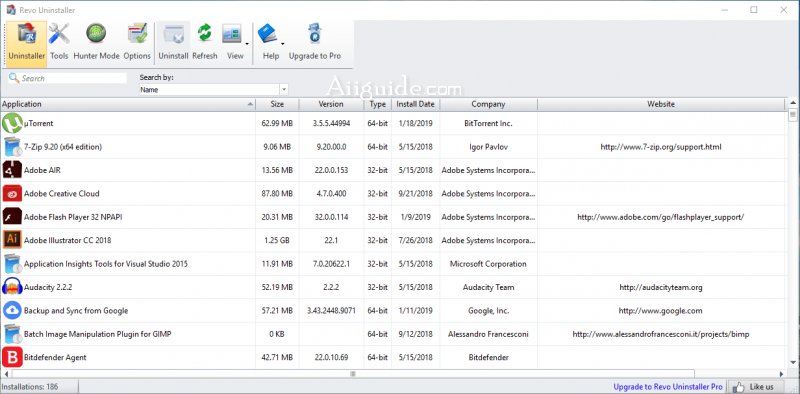 Revo Uninstaller is a free Windows software removal application, equipped with powerful and optimized algorithms, capable of cleaning the leftovers after removal, making the system cleaner.
After a long time of use, there will be many software installed on the machine that you may not use anymore. Removing these software will help free up memory and increase computer efficiency. Although Windows has a built-in Add or Remove Programs utility, this feature seems to be ineffective, when it is not possible to completely remove their traces in the registry or other data. That's when you need Revo Uninstaller.
Revo Uninstaller is a free software of VS Revo Group, equipped with powerful and optimized algorithms so the program can analyze all data related to the application before completely uninstalling the program. Then, after you uninstall a certain software, Revo Uninstaller will continue to scan, search and delete all the remaining data and directory information of the software. The program will delete unnecessary files, keys in the registry, components that when uninstalling software are often ignored and create garbage in the system.
Uninstaller with Revo Uninstaller:
The Uninstaller module is Revo Uninstaller's primary feature for situations when a program won't uninstall normally or when you have some doubts that a program has not been uninstalled completely.
Also when a program is uninstalled, often times there are multiple files, folders, and/or Registry entries left on your system, which can cause various issues if not removed. This happens more frequently than you might think.
Revo Uninstaller acts as both a replacement and a supplement to the built-in functionality in Windows by first running the built-in uninstaller for the program, and then scanning for leftover data afterwards, making it your best choice when it comes to completely remove stubborn programs, temporary files, and other unnecessary program data that is left behind after the standard uninstall process.
8 Additional Cleaning Tools included:
Autorun Manager - control Windows startup
Junk Files Cleaner - remove unnecessary files
Windows Tools - useful Windows tools in one place
Browsers Cleaner - clear Internet browser history
MS Office Cleaner - clear Microsoft Office history
Windows Cleaner - remove junk files from your Windows
Evidence Remover - erase permanently confidential data
Unrecoverable Delete - erase permanently files and folders.
Main features of Revo Uninstaller software removal utility:
Completely free, no adware, no spyware.
Uninstall apps easily and accurately.
View all the details of an application installed on the computer.
Use Hunter mode to uninstall, kill and delete apps.
View and manage applications that are loaded when Windows starts.
Clean any junk, temporary and unnecessary files from your drive.
Clear history in Internet Explorer, Firefox, Opera, or Netscape browsers.
Delete Microsoft Office recent document history from version 2000 or later.
Permanently delete all deleted files so that they cannot be recovered with any software.
Erase the important traces you have left when working with Windows.
System Requirements:
Supported OS: Windows XP, Vista, 7, 8, 8.1, 10 and Windows Server Editions
Free Hard Disk Space: 200 MB or more.