Download RS Word Recovery 3 for Windows XP, Vista, 7, 8, 10, 11 - Recovery documents in Word DOC/DOCX, Adobe PDF, and OpenOffice ODT formats even if the situation seems hopeless!
RS Word Recovery is designed to take care of the most difficult cases involving formatted volumes, repartitioned hard drives, corrupted and inaccessible storage media. But don't let it stop you from using the tool for quickly undeleting some freshly deleted documents! RS Word Recovery comes with a special Quick Recovery mode that recovers recently deleted documents in minutes.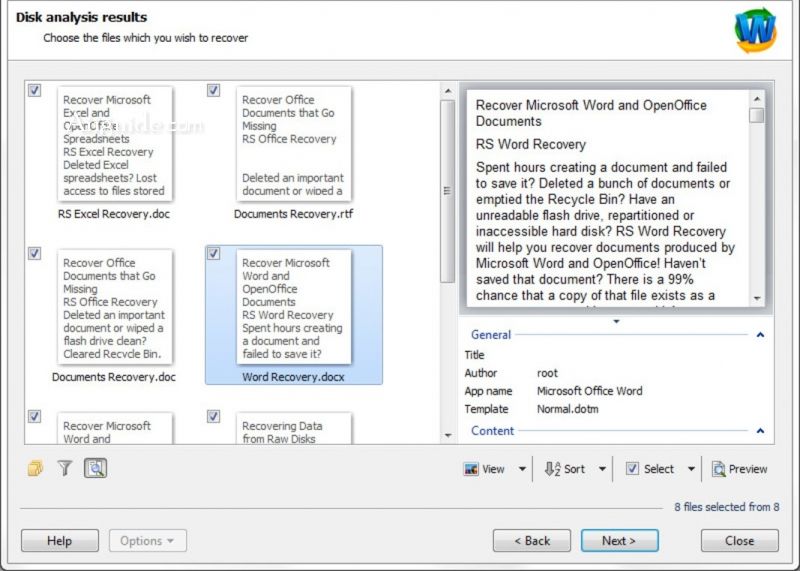 Unlike other recovery tools cluttering their lists of recoverable files with thousands of corrupted entries, RS Word Recovery will make sure to only display documents successfully passing the built-in integrity check. This results in clean, uncluttered view of recoverable files, making the list much easier to navigate and allowing finding the right document in a breathe.
Featuring a fully guided step-by-step wizard, RS Word Recovery will take you through the recovery process one little step after another. You'll specify the disk holding deleted documents, choose your recovery priority (speed vs. quality), wait till the scan is finished and select documents to be recovered.
RS Word Recovery comes with a full-size built-in viewer allowing to preview recoverable documents before they are undeleted. The viewer does not use any external components, and does not need Microsoft Office, Adobe Acrobat Reader or OpenOffice to be installed.
RS Word Recovery shares its data recovery engine with the rest of the lineup, resulting in unparalleled compatibility and support for the widest range of storage devices and file systems. It supports hard disks and SSD drives, all types of memory cards and USB pen drives. The tool was tested with more than a hundred different devices.
Features of RS Word Recovery
Recovers documents in Microsoft Word, Adobe PDF and OpenOffice formats (DOC/DOCX, PDF, RTF, ODT and so on).
Recovers encrypted and compressed documents.
Recovers documents compressed with NTFS on-the-fly compression.
Recovers documents from formatted FAT and NTFS partitions and repartitioned hard drives.
Recovers documents from damaged and inaccessible media.
Recovers documents from hard drives, SSD drives, flash memory cards and all other types of storage media.
Supports most major file systems including exFAT / FAT / NTFS / APFS / ReFS / XFS / UFS / ReiserFS / Ext2/3/4.
Supports 32-bit and 64-bit versions of Microsoft Windows XP, Vista, 2003 and 2008 Server, Windows 7-8 and Windows 10.