Download Samsung SSD Magician 7 - Easy maintenance and use of Samsung SSD products connected to a desktop or notebook computer
Samsung SSD Magician is a Samsung hard drive management software developed only for Samsung SSDs such as: 970 (EVO, PRO, EVO PLUS), 860 (EVO, PRO). Samsung Magician has the functions of identifying genuine Samsung SSDs, speed testing, SSD optimization, data security, etc., so that users can check and monitor the status of the hard drive they are using.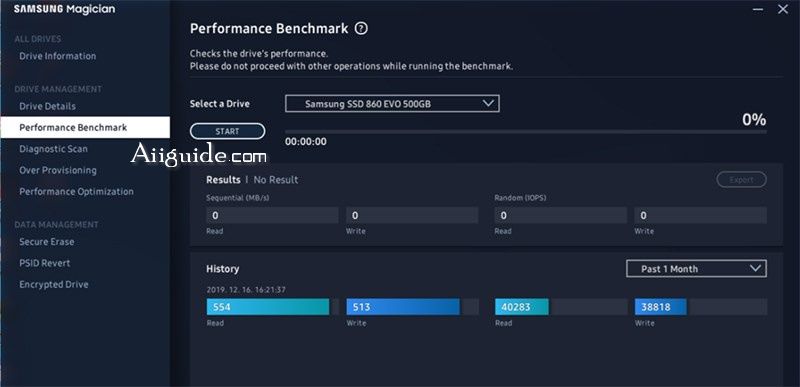 Samsung SSD Magician Tool
Samsung Magician software allows you to check the origin of the hard drive you are using. It will process the serial number and then compare it with the data on the Samsung system. The result shows the word "Genuine", which means that your Samsung SSD is a genuine product.
Features of Samsung SSD Magician
1. Check and optimize performance
Over Provisioning is a feature that optimizes Samsung SSDs. After a period of use, in addition to the age of the hard drive decline, along with a lot of storage, the hard drive is full. Therefore, Samsung Magician's will help you cut a few percent of the space into an empty partition. This will cost you a bit of storage space but in return for performance and SSD life will be longer and perform better.
2. Software updates
Hard drive or any other piece of hardware comes with a system software or Firmware Version. After a period of use, the current firmware version will no longer be suitable and lead to the hard drive's operation is no longer smooth. At this time, if your hard drive is released by Samsung with a new firmware version, it will show Update so you can Update the firmware easily.
3. Refresh the drive
In Samsung Magician, there is a utility that helps you erase hard drive data, Secure Erase. This is a feature that helps you to easily wipe SSD data and not restore it. This utility is quite handy in case you are buying back a used hard drive or you do not want anyone to be able to trace data that you do not want others to know.
4. Increased security
In Samsung Magician provides you with Performance Optimization feature that displays the activation status of TRIM and RAPID MODE. RAPID will use part of the RAM memory to cache the SSD. Helps increase read and write speeds for SSDs up to several thousand MB/s, many times higher than usual with a maximum speed of no more than 600MB/s.