Download SideSlide 5 for Windows 7, 8, 10, 11 - SideSlide keeps your desktop clutter-free and organizes your PC life in a unique and personalized way
SideSlide is a feature-packed desktop launcher which allows you to organize a bunch of tools in a customizable working environment, such as a folder container, notes and file shortcuts. With the SideSlide tool, you will have a workspace on the desktop, like a small table to take notes on everything, especially the auto-hide mechanism when opening other applications will help save working space.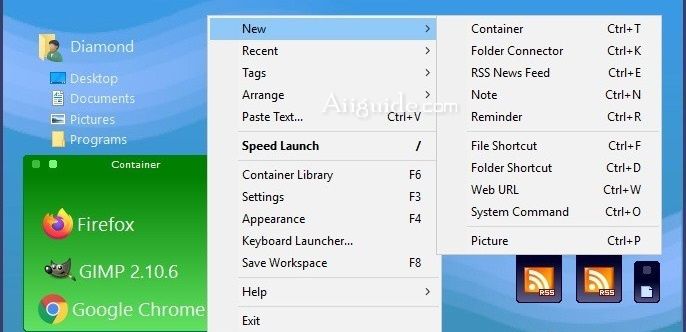 SideSlide - Organizes your PC life
The interface of the program is based on a stylish layout where you can lock/unlock the workspace for editing, as well as shrink/expand and fold/unfold all containers. By opening the context menu, you can access a wide range of features. SideSlide allows the creation of containers (file or directory shortcuts, web URL, system command), folder containers, RSS news feeds, notes, reminders and pictures.
Features of SideSlide
Instantly accessible and adjustable workspace that stays out of your way until you need it
Add multiple shortcuts, commands, URLs, RSS news feeds, pictures, reminders and notes
Resizable, detachable, foldable and shrinkable containers extend the workspace beyond the limits of the screen. Mouse & keyboard support with a full-blown keyboard launcher and directory navigator
RSS news feed functionality allows you to track what you are interested in the most
Keep your eyes on multiple picture slideshows that are easily added
Floating, colorful notes are quickly created and adjusted in bulk or separately
Shortcuts can be tagged for additional functionality and organization
Various ways of launching multiple shortcuts with a single click
Link containers to actual folders on disk (launch, move, copy and delete files)
Shortcuts, URLs, text and pictures from Windows or your browser can be dragged & dropped in the workspace. -A growing online library with ready made RSS news feed and shortcut containers
Every style and setting in the entire program and for each individual object can be customized
Fancy special effects that don't slow you down
Comes with multiple themes and wallpapers and you can also define your own style
Supports portable setup and the ability to load objects from a relative path.