Download SterJo Wireless Passwords 2 - Free utility for recovering your lost wireless passwords of your network works on both 32-bit and 64-bit of Windows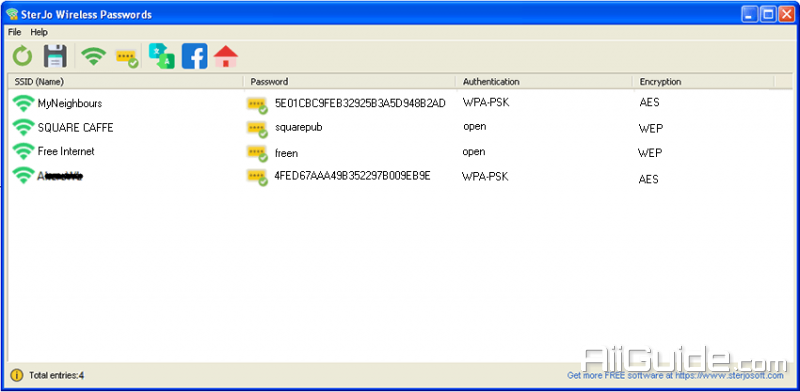 SterJo Wireless Passwords is free utility for recovering your lost wireless passwords of your network. As the number of devices using wireless network increases same as the need for more security, it often may happen your password containing letters, numbers and special characters to be forgotten in time. So instead of completely resetting everything and creating a new password there is a much simpler solution.
All you have to do is run SterJo Wireless Passwords and allow it to scan your wireless network. The software will display all saved passwords which can be used to connect your other wireless devices without a fear of forgetting them in the future.
Features of SterJo Wireless Passwords
SterJo Wireless Passwords Free & Safe Download!
SterJo Wireless Passwords Latest Version!
Works with All Windows versions
Users choice!
Solution For Lost Wifi Passwords
Your wireless security is important. SterJo Wireless Passwords is a tool, a software actually, that will help you recover your lost wifi password. This application is efficient wifi password finder that will "work for free". By using this wifi password cracker, you will not have to reset anything or bother how to make a new wifi password. Solution is not only free but also very simple.
SterJo Wireless Passwords works best as wifi password cracker in cases when you wonder how to return wifi password for multiple wireless connections.
System Requirements:
This wifi password finder works on both 32-bit and 64-bit editions of Windows XP, Windows Vista, Windows 7, Windows 8 and Windows 10. The SterJo Wireless Passwords program is user-friendly.