Download Syncthing for Windows XP, Vista, 7, 8, 10, 11 - A continuous file synchronization program, it synchronizes files between two or more computers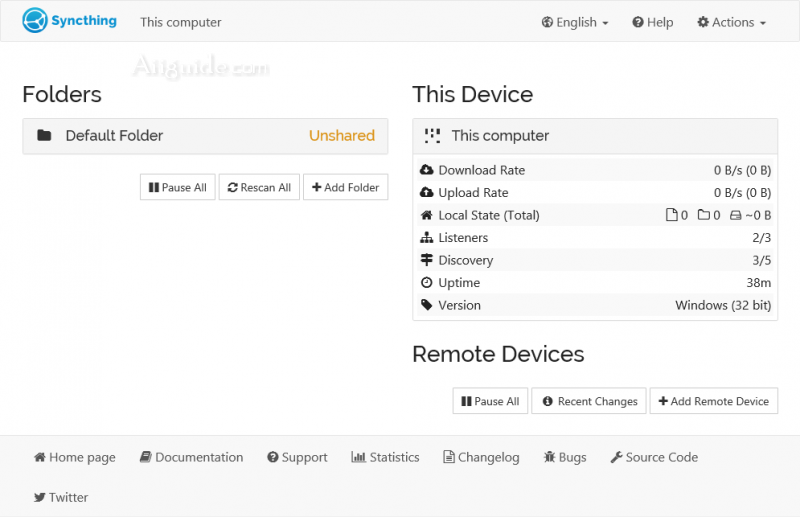 Syncthing is a continuous file synchronization program. It synchronizes files between two or more computers. Syncthing is available on aiiguide.com is and open and decentralized sync and cloud service that lets you share and synchronize files with other computers and provides you with full control over how your data is shared and who can access it.
Syncthing is portable and does not require installation. It uses a browser based GUI that allows you to configure the application and monitor file sharing activity. In addition, all communication is secured using TLS and every node is identified by a strong cryptographic certificate. Only computers that have been explicitly allowed can connect to your file sharing cloud.
Features of Syncthing:
Safe From Data Loss: Protecting the user's data is paramount. We take every reasonable precaution to avoid corrupting the user's files.
Secure Against Attackers: Again, protecting the user's data is paramount. Regardless of our other goals we must never allow the user's data to be susceptible to eavesdropping or modification by unauthorized parties.
Easy to Use: Syncthing should be approachable, understandable and inclusive.
Automatic: User interaction should be required only when absolutely necessary.
Universally Available: Syncthing should run on every common computer. We are mindful that the latest technology is not always available to any given individual.
For Individuals: Syncthing is primarily about empowering the individual user with safe, secure and easy to use file synchronization.
Everything Else: There are many things we care about that don't make it on to the list. It is fine to optimize for these values, as long as they are not in conflict with the stated goals above.