Download Tablacus Explorer 23 for Windows - Tabbed file manager, you can easily and quickly organize your directories and files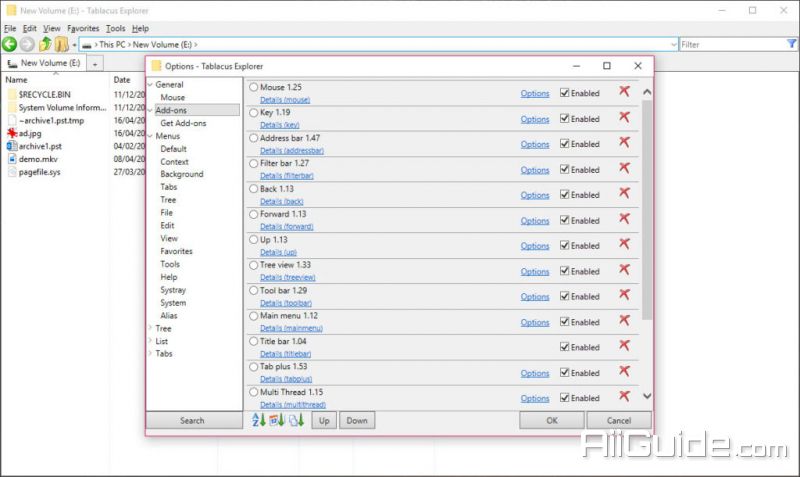 Tablacus Explorer is a tabbed file manager. You can easily and quickly organize your directories and files. By saving them in an XML file, you can bring up the settings quickly again.
When you download the ZIP file, it will give you two options. There is the 32 bit or the 64-bit version. Because it is portable, you won't have to install the utility. All you need to do is open the executable (.exe file) and then copy it over to something like your USB flash drive.
The developers made sure to include a lot of customizations. You can choose how many folders you want to be visible at one time. Furthermore, you can change the size of the icons between tiles, content, details, small, medium, or large.
You can further sort your information by type, name, size, and date. You can even choose to display them by the time that they were last modified. The persistent memory in the application is useful. For instance, during testing, we closed out of the program and opened it back up again. It remembered our tab settings automatically.
The amount of customization seems endless. You can customize your menus and tabs by size, position, style, and alignment. However, you will want to know what features you want to tweak as this panel is not for beginners. Luckily, there is an abundance of online resources to help you work through these tweaks. It won't be long before you are able to figure out your problem and get your settings exactly as you want them.
Tablacus Explorer features and highlights:
Tabbed interface
Add-on support
Completely portable, No installation required
Multiple language and Unicode support
Columns: Total file size, Label
Customizable association, menus, keys, mouse gestures, alias
Open source
64-bit(TE64.exe/x64 Edition) and 32-bit(TE32.exe/x86 Edition) versions are available.