Download TeXstudio 4 for Windows Windows, MacOS, Linux - An integrated writing environment for creating LaTeX documents designed to make it easy and comfortable
TeXstudio is an integrated writing environment for creating LaTeX documents. TeXstudio is available on aiiguide.com is to make writing LaTeX as easy and comfortable as possible. Some of the outstanding features of TeXstudio are an integrated pdf viewer with (almost) word-level synchronization, live inline preview, advanced syntax-highlighting, live checking of references, citations, latex commands, spelling and grammar. Therefore TeXstudio has numerous features like syntax-highlighting, integrated viewer, reference checking, and various assistants.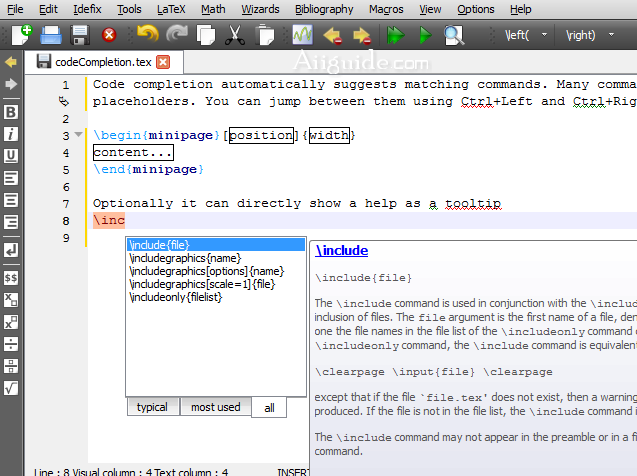 TeXstudio is a fully featured LaTeX editor.
Features of TeXstudio
Advanced Syntax Highlighting
Live Reference Checking
An integrated PDF viewer
Live Inline Preview
Latex Commands completion and syntax checking
Live Grammar checking
Local and global structure view
Citations checking and completion
Spellchecking.
Advanced build system:
Error Highlighting
Built-in support for various LaTeX compilers, index, bibliography and glossary tools, Latexmk, and many more
Automatic detection of the need for multiple LaTeX runs
Run any program you like
Completely customizable for the creation of the complete document.