Download tinyMediaManager 4 for Windows Windows, MacOS, Linux - Cross-platform Java-based to help you catalog movies, get works, and download comprehensive information from online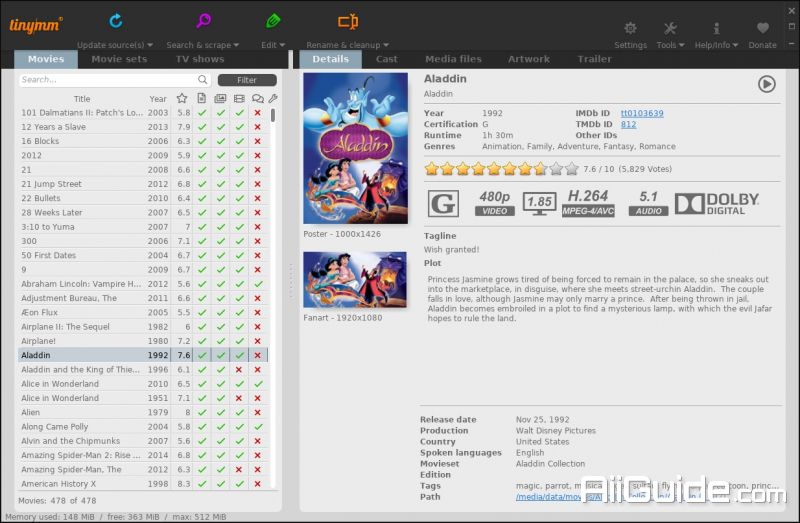 tinyMediaManager is a full featured media manager to organize and clean up your media library. Just select the folder(s) that contain your movies and the program can automatically get all necessary meta data for your movies and TV shows from TheMovieDB.org, Imdb.com, OFDb.de and other online sources.
tinyMediaManager downloads the associated movie artwork, cast, plot and other media details. Each movie or show is nicely presented with matching background art, genre and ratings. To view a movie or show, simply click on the play button and tinyMediaManager is available on aiiguide.com will launch it in the media player of your choice.
Overview of tinyMediaManager 4 Features
- scrape and edit metadata of movies and TV shows
- get artwork, trailers, and subtitles
- rename your movie files
- advanced search
- create and import NFOs
- extract media information
- create movie sets
- artwork for movies and TV shows
- assign movies
- powerful import engine for TV shows
System Requirements for tinyMediaManager
Operating system: Windows Server 2012, 2012 R2, Windows 8, Windows® 2008 R2, Windows 7, Windows Vista, Windows 2003, Windows XP (x32 and x64*)
Disk space up to 100 MB