Download UVK Portable (Ultra Virus Killer) 11 for Windows 7, 8, 10, 11 - Anti-virus software allows users to easily remove all types of malware and perform all Windows optimization related task
UVK Portable (Ultra Virus Killer) is a portable app and a powerful virus removal and Windows repair tool. With simple and intuitive interface, UVK allows users to detect and delete all types of malware and spyware from infected systems. It also includes lots of tools to repair windows after the disinfection.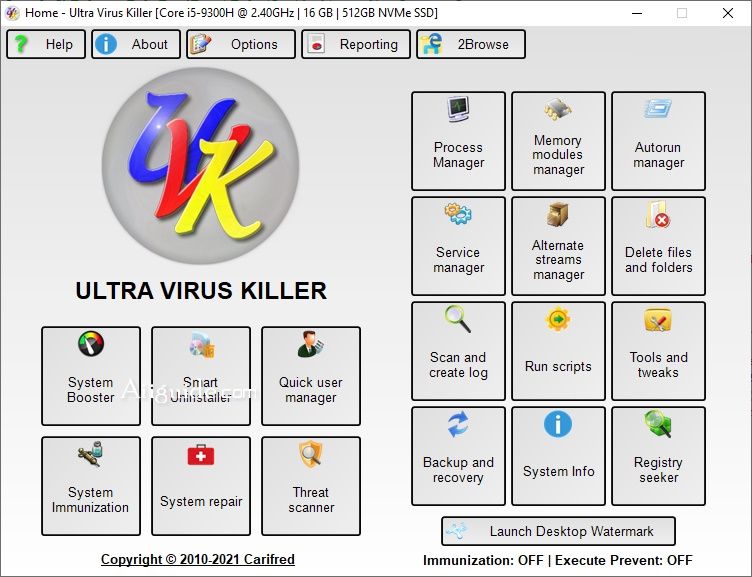 Ultra Virus Killer also integrates many tools to fix and maintain the system, automatically remove malware, find invalid references in the registry. In addition, this anti-virus software also supports system analysis to remove necessary files, thereby increasing the booting speed for Windows.
All the modules not mentioned above are malware detection and removal related. The set of features is so large that even if you group several well-known tools such as Process explorer, Autoruns, HijackThis and OTL, you would still be missing features such as automatic adware removal, VirusTotal MD5 hash reports, jump to the file or registry location in one click, adding cmd batch scripts to UVK scripts, managing Windows services and drivers, etc, included within these modules.
Features of UVK Portable
Process manager
Remove viruses and malware.
Powerful system repair tool.
Clean up the file system and registry.
Uninstall programs automatically.
Export file system information.
Startup entries and scheduled tasks
Delete or replace file or folder
Scan & create log
UVK System repair
Prevent the most vulnerable registry and file system areas from being infected.
Prevent adding programs to the windows startup and logon.