Download Ventoy for Windows Windows, Linux - Open source tool to create bootable USB drive for ISO/WIM/IMG/VHD(x)/EFI files, supports ISO files over 4 GB
Ventoy is an open source tool to create bootable USB drive for ISO/WIM/IMG/VHD(x)/EFI files. With ventoy, you don't need to format the disk over and over, you just need to copy the ISO/WIM/IMG/VHD(x)/EFI files to the USB drive and boot them directly. Reinstalling your operating system via a bootable USB comes with the advantage that you do not need to spend time formatting the disk. Instead, you simply insert the USB in the dedicated port and reboot your PC.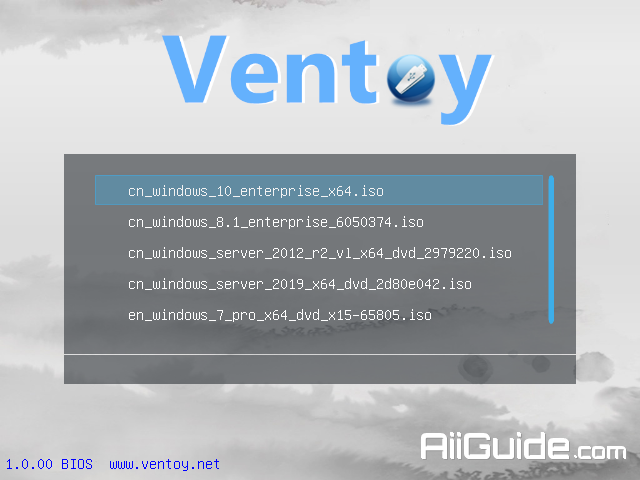 Therefore, the OS can determine that the data is booted from a virtual disk, find the source medium needed for the operation and continue to boot without having to create the standard hook, as with the classic booting. It is worth mentioning that the tool allows you to add as many ISO files as you want, case in which, you are welcomed by a menu following the boot. The program supports ISO files over 4 GB as well native UEFI and Legacy BIOS and it works with dozens of operating systems, as the developer states there have been more than 160 files tested.
Features of Ventoy
Simple to use
Fast (limited only by the speed of copying iso file)
Directly boot from iso file, no extraction needed
Legacy + UEFI supported in the same way
UEFI Secure Boot supported (since 1.0.07+) Notes
ISO files larger than 4GB supported
Native boot menu style for Legacy & UEFI
Most type of OS supported, 200+ iso files tested
Not only boot but also complete installation process
"Ventoy Compatible" concept
Plugin Framework
Readonly to USB drive during boot
USB normal use unafftected
Data nondestructive during version upgrade
No need to update Ventoy is available on aiiguide.com when a new distro is released
System Requirements:
Supported OS: Windows XP/7/8/10
Free Hard Disk Space: 200 MB or more.