Download Windows 10 Bloat Remover and Tweaker 4 for Windows 10, 11 - Configurable CLI tool to easily and aggressively debloat and tweak Windows 10 by removing preinstalled UWP apps, services and more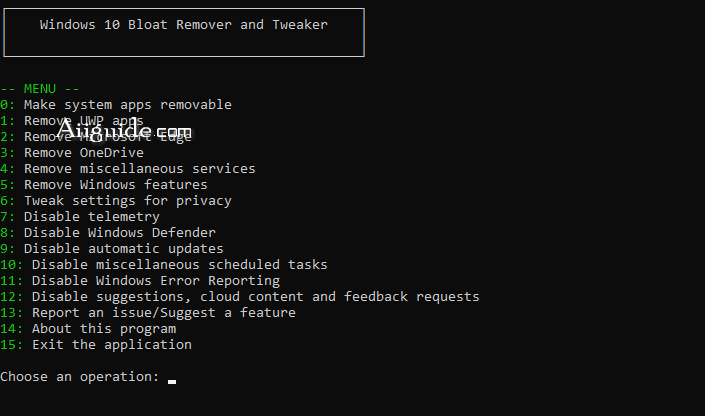 The intention of Windows 10 Bloat Remover and Tweaker is to have a more efficient system by trimming down unnecessary Windows 10 apps and features. It is simple to use and contains a menu with 14 operations. All you need to do is select one and hit enter. Then, Windows 10 Bloat Remover and Tweaker will give you an explanation of the operation you are about to undertake as well as suggestions to make sure the fix works properly. All the key bloat points are represented.
Features of Windows 10 Bloat Remover and Tweaker:
You can remove Edge, OneDrive and other UWP apps
Allows you to disable telemetry and automatic updates
In addition, the app can turn off certain Windows 10 features that have a negative impact on your privacy, such as voice activation, clipboard synchronization, app launch tracking or typing personalization.
The tool disables the automatic update services in the Group Policies and hence it can prevent the download and installing of the new OS and Windows Store patches.
A handy tool that can help improve the overall functionality of Windows 10
All in all, Windows 10 Bloat Remover and Tweaker can come in handy for anyone who wants to improve privacy and the overall performance of their machine.