Download Windows 10 Manager 3 for Windows 11, 10, 8, 7 - A useful tool to optimize, clean and repair Windows 10 and fix Windows 10 security issues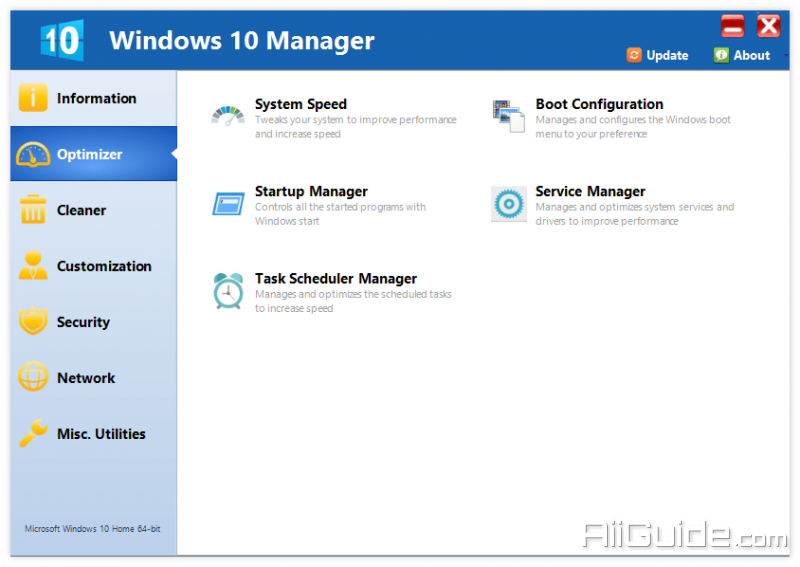 Windows 10 Manager is a useful tool to optimize, clean and repair Windows 10. This program speeds up your system. Fixes errors you might encounter in Windows. Detect and fix Windows 10 security problems. This tool is truly a set of 30 different tools that all beginners to professional users will be able to achieve their desired goal. by choosing a number of options.
It is true that all these settings can be applied through Windows itself, but sometimes for some reason we may forget a specific setting in the registry or other sections or we may not have the opportunity to engage with different parts of Windows. In addition, manually adjusting values ​​is prone to errors, and entering the wrong value can cause irreversible damage to the operating system. For this reason, the use of such tools can enhance the security and speed of application installation, as well as the ability to integrate management of different parts of Windows for users. Windows 10 Manager, despite its small size, contains many tools that prevent each Windows user from having to install other similar programs separately.
Features of Windows 10 Manager
Create system restore point manually
Tweaks your system to improve performance and increase speed
Gets detailed information about your system and hardware
Helps you find out the Microsoft product key
Manages and configures the Windows boot menu to your preference
Manages and optimizes system services and drivers to improve performance
Customizes system parameters according to your preferences
Tweaks system, components, UAC, Sign in settings, adjusts various settings
Optimizes and tweaks your internet connection and network settings
Creates scheduled tasks or the monitoring that trigger tasks
Splits a file into several smaller files or merges back to the original file
Super Copy is the powerful tool to copy files or backup automatically
Operates your Registry easily using the Registry Tools
System Requirements for Windows 10 Manager
Supported OS: Windows 7/8/10
Processor: Pentium IV or above
RAM: 1 GB RAM
Free Hard Disk Space: 50 MB or more