Download Windows 11 Requirements Check Tool for Windows 8, 10 - A free tool to see if your PC meets the requirements to run Windows 11 and it checks if your PC can support (gaming) features
Windows 11 Requirements Check Tool can perform the checks specified by Microsoft (we have included the link to the June 2021 PDF file download below) and check if your machine can support (gaming) features like AutoHDR and DirectStorage. One nice feature included with this tool is that it does not use a list of supported processors.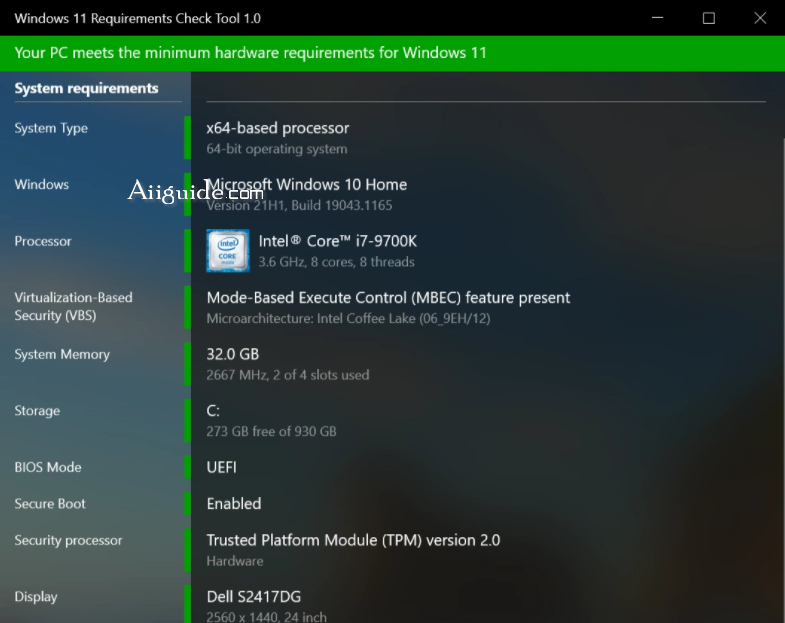 Rather, it will actually check the various feature bits reported by the processor providing more accuracy in any possible deficiencies. For a detailed overview of what Windows 11 Requirements Check Tool is capable of, please visit the author's site as it is pretty detailed and has way too much info to post here.
Requirement Checks:
System Type – Shows whether your PC contains an x86, x64 or ARM-processor. In addition it shows if your operating system is 32-bit or 64-bit. This item turns red if your processor does not support 64-bit instructions and registers, also known as long mode.
Windows – Shows the version of Windows you are running. This item checks if your version of Windows can be upgraded to Windows 11.
Processor – Shows the processor in your computer. This item checks if your processor has at least 2 cores and runs at 1 GHz or higher.
Virtualization-Based Security (VBS) – Shows if your processor has hardware support for Hypervisor-Enforced Code Integrity (HVCI).
System Memory – Shows the amount of physical memory installed in your PC. This item turns red if the amount is less than 4GB.
Storage – Shows the capacity of the system volume. This item turns red if the capacity is less than 64GB.
BIOS Mode – Shows if the PC uses UEFI or legacy firmware. This item turns red if the PC uses legacy firmware to boot the computer.
Secure Boot – Shows if the PC uses Secure Boot. This item turns green if Secure Boot is enabled. This item turns orange if your computer is capable to support Secure Boot. This item turns red if your system disk is formatted as MBR and therefore incapable to use Secure Boot.
Security Processor – Shows if the PC has a Trusted Platform Module (TPM) enabled. In addition, it checks whether the TPM supports TPM 2.0.
Display – Verifies whether the size of your display is at least 9" and supports a resolution of 720p or higher. The tool queries the Extended Display Identification Data (EDID) from the display to determine this information.
More Feature Checks:
AutoHDR – This item checks if any of your currently connected displays support High Dynamic Range (HDR) content. Windows 11 introduces AutoHDR which adds HDR to games that do not support HDR, therefore improving graphics quality and immersive feeling.
DirectStorage – This item checks the Storage Controller of your system disk and the Shader Model of your graphics card (GPU) to see if they meet DirectStorage requirements. DirectStorage is a feature that allows games to load quickly by working to load assets on the GPU, saving resources on the CPU and as such helps to improve graphics and reduce load times. If you have a hybrid system (eg. gaming laptop) containing both an integrated and discrete GPU, the tool will use the discrete GPU for the validation.