Download Wondershare DemoCreator 5 for Windows 7, 8, 10, 11 - Record video games and many other activities on the computer screen, bring powerful and perfect features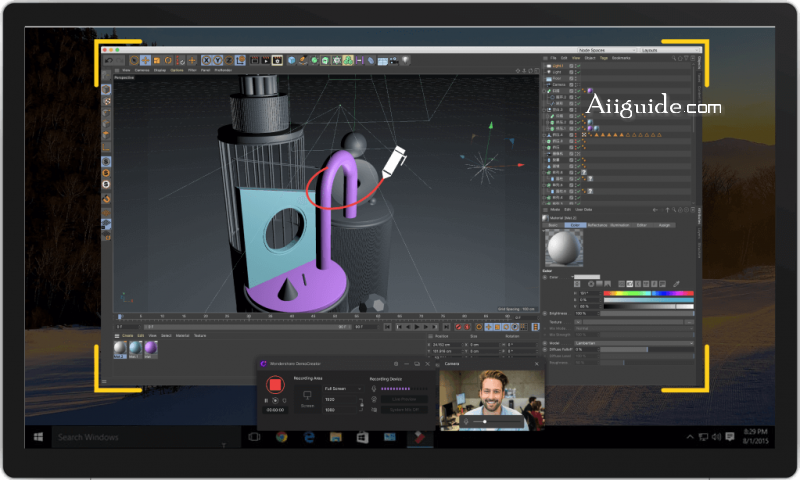 Wondershare DemoCreator (Rebuilt based on Wondershare Filmora Scrn) is an easy-to-use screen recorder that is perfect for recording games, or anything else you want to capture. Much more than a simple screen capture program, Filmora scrn includes a a video editing suite tailored for screen recordings. You can cut, rotate, and crop your clips. You can also add annotation and custom cursor effects. Videos created with Filmora scrn can be exported as MP4s, MOVs, or GIFs.
Wondershare DemoCreator enables simultaneous PC gaming, webcam and video recording, then editing gameplay, creating recap and screencast easily via customizable cursor to adjust color, size, shape. of the cursor on the screen. Filmora DemoCreator possesses powerful features for video recording: high speed game recording, from 15-120 FPS; capture screen and webcam at the same time; Complete video editor: fast and easy clip editing with many professional tools, add pointer and annotation to the video.
Wondershare DemoCreator's screen recording feature is very useful to users, especially vloggers, providing instructions on the PC. With Filmora Scrn, this feature is even more convenient when the program automatically imports recorded movies and supports instant editing, including adding text and other elements to create annotations on the video. Filmora Scrn supports importing more than 50 file formats, including photos, videos, music and many other multimedia files for editing.
Wondershare DemoCreator features:
Screen Drawing Tool: Draw lines, rectangles, circles and more on your recording screen clearly.
Cursor Effects: 3 Different cursor effects to help you make your ideas expressed better.
Spotlight: Attract your audiences' attention and highlight the key point.
Custom Recording Field: Allow you to customize the recording area.
Pan & Zoom: Zoom in and out on a particular object from the video helps you drive the attention of your audience and give them a detailed view.
Audio Fade In and Fade Out: With the fade in and fade out effects, you'll be able to make the beginning and end of your audio more smoothly.
Audio Recording: Easily record your computer system audio and microphone sound.
Green Screen Effects: Easily replace parts of your video with green screen backgrounds to take your project to a new level.
Transitions: 13 stunning transition effects, such as dissolve, erase, evaporate and more to let your video flow better.
Full Editing Suite: Edit your clips quickly and easily with a wide range of professional tools.
Annotations: Add text and other elements to enhance the learning experience for your viewers.
Import Over 50 File Formats: Import images, videos, music, and other media files.
FPS (15-120): Perfect for recording fast-paced games. (Up to 60 fps for Mac)
Export To MP4, MOV, GIF: Export to multiple formats
PIP (Picture In Picture): Add a second image or video to your main footage, like a facecam for gaming.
Tutorial Features: Draw circles and arrows on your screen to help direct attention.
Configure Wondershare DemoCreator:
Operating System: Windows 7/8 / 8.1 / 10.
Memory (RAM): 512 MB RAM required.
Hard Disk Space: 150 MB of free space required.
Processor: Intel Dual Core processor or higher.