Download Wu10Man 4 for Windows - A tool that provides simple and easy shutdown of Windows Update for Windows 10 PC for everyone
Windows Update is a feature found on Windows 10 computers that helps it receive system updates that are constantly updated by Microsoft. Basically that's great, because the updates will bring new features and help your computer work better. However, not all updates from Windows Update are stable. In the past many times, updates from Windows Update contained errors, causing serious problems on the computer. In addition, the unexpected Windows Update operation also affects the performance and storage space of the computer while the user is working.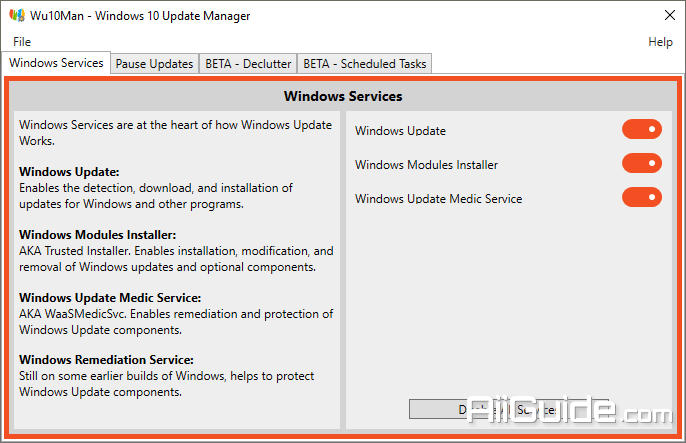 Although Microsoft recently added an option that allows users to temporarily disable Windows Update on Windows 10. But that is very inconvenient because we have to periodically check and renew to avoid updates. is added. Therefore, for those who find Windows Update annoying, they often try to turn them off completely.
Summary information on Wu10Man:
Wu10Man is a tool designed to help you manage the irritating automatic updates by configuring the group policy or disabling various services and URLs.
The program comes with a user-friendly interface that displays the three ways you can manage and prevent the automatic updates, namely Windows Services, Windows Update Group Policy and the host services from where the patches are typically downloaded.
All in all, Wu10Man is available on aiiguide.com is a handy application that allows you to access and make the necessary modifications to the group policy and disabling the services that activate automatically whenever an update is released for Windows 10.
Use the Wu10Man software
When you open the Wu10Man software, right at the main interface with the first tab, Windows Services, you will see 3 available options:
Windows Update
Windows Modules Installer
Windows Update Medic Service
These are the three main services that Windows 10 relies on to download and install new versions. And what you need to do if you want to completely and permanently turn off Windows Update, just disable all of the above options. It is done.