Download CCleaner 5 - A free, effective cleaning tool that is loved and used by many office users to clean up the computer system
Overview of CCleaner 5 - Clean & optimize and tune up your PC: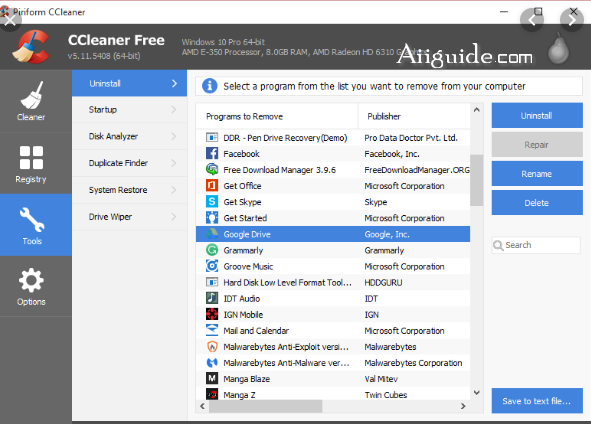 CCleaner is a tool to clean your system from temporary and unnecessary files that accumulate over time. With a deep scan mode that completely removes junk files, temporary files, registry in the system, deletes browser data, CCleaner PC helps return storage space to the hard drive to help the computer run faster. In particular, CCleaner now has a Health Check feature, which checks the "health" of your computer comprehensively every time you feel like you don't know how to make it better. Let Health Check analyze, tune and repair your PC for you.
CCleaner owns a very easy to use interface, clearly divided functional groups including scanning and cleaning, Registry repair, system tools. For each group there are more detailed options. Help users freely choose according to their purposes The latest version of CCleaner improves on a flatter, more intuitive user interface. At the same time, it also improves the cleaning ability on some of the most popular web browsers today, which greatly speeds up the computer.
CCleaner helps clean browsing history:
Internet Explorer
For Internet Explorer, during use often create temp files, history, cookies, super cookies, Autocomplete form history and index.dat file. Let CCleaner help you get rid of them all
Firefox
As soon as you download Firefox to your computer and after using it for a long time, your web browser often contains a lot of temporary files, browsing history, cookies, autocomplete forms and many other downloads. CCleaner will help clean up all those unnecessary files to help your computer run faster and more efficiently..
Google Chrome
Temp files, history, cookies, super cookies, Autocomplete form history and downloads.
Opera
Temp files, history, cookies, super cookies and download history.
Safari
Temp files, history, cookies, super cookies and Autocomplete form history.
Other Supported Browsers
K-Meleon, Rockmelt, Flock, Google Chrome Canary, Chromium, SeaMonkey, Chrome Plus, SRWare Iron, Pale Moon, Phoenix, Netscape Navigator, Avant and Maxthon.
Download the latest CCleaner which is fully compatible with Windows 10 Creators Update, and also improves cleaning on Edge, Firefox, Internet Explorer 10 and 11. So update to the latest CCleaner to get these features!
Reclaim Memory Space:
Streamlined organization for your personal computer
Uninstall many unnecessary apps quickly and easily
Free up important memory space on your device
Clean up junk content, like redundant and unused files
Monitoring system:
Check CPU usage
Monitor RAM and Internal Storage
Check battery capacity and temperature
CCleaner also comes with a registry scanner that scans for invalid references (advanced users) and options to start cleaning automatically or from the command line.
System Requirements:
Supported OS: Windows 10, 8.1, and 7 (64 or 32 bit)
Free Hard Disk Space: 200 MB or more.