Download DualSafe Password Manager for Windows 11, 10, 8, 7 - Securely store unlimited passwords and auto-fill passwords with one click
DualSafe Password Manager is a free, simple, secure, strong, and smart password manager. It can store and manage unlimited passwords for free, no credit card is required. Just remember one master password, and you can access all your passwords quickly, easily, and securely. In addition to managing your password, you can also save your secure notes, payment info, and personal info to DualSafe Password Manager.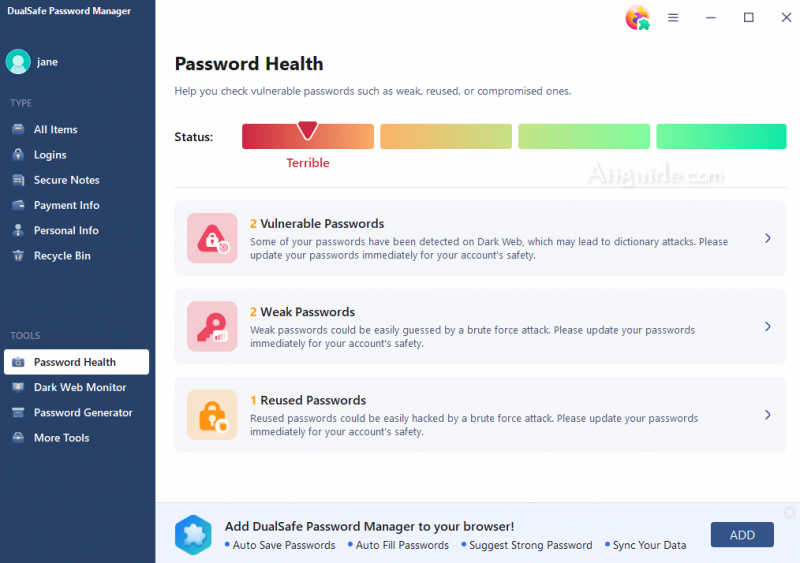 Manage Unlimited Passwords
DualSafe Password Manager encrypts your data using AES-256 with a unique key that is randomly generated based on your account and password of DualSafe Password Manager. All of this is done locally on your side, thus no one else, including all members of the DualSafe Password Manager team, can access your data.
Features of DualSafe Password Manager
Store unlimited passwords
Safely remember your account logins and passwords. You can easily access your online banking, shopping, work, social, and gaming accounts and avoid login failures when forgetting the passwords.
Autofill & login to accounts
Auto-fill login credentials or personal information when creating a new account. You don't need to type characters with the keyboard and just complete it with a few clicks. You can check new emails, send money and share photos anytime, anywhere.
Strong password generator
Quickly generate random unique, complex passwords and even Time-based One-Time Passwords. No more data breaches caused by weak passwords. Your personal information is always safe on the Internet.
Dark web monitoring
Monitor data breach and protect your account. You will be well-informed and have complete control of your digital life. Once there are any credential leaks associated with your account, you'll know immediately and take precautions.
Password health check
DualSafe can check each password's strength and the security status of associated websites, and display tips on how to make your accounts more secure. Keep your accounts safe and prevent personal information leaks.
Sync passwords between browsers
Automatically sync passwords across Chrome, Edge, Opera, and Brave. Whether you're at the office, at home, or on the road, your account data stays up to date.