Download Glary Tracks Eraser 5 for Windows XP, Vista, 7, 8, 10, 11 - Secure your browsing privacy, allow you to erase all the common internet and digital traces, including browser cache
Unlike CCleaner software that erases data and cleans your computer, Glary Tracks Eraser software is designed for privacy when browsing, allowing you to erase all traces of network access and traces. Common numbers, including browser cache, cookies, opened web pages, entered URLs, new documents, temporary files, start menu items or index.dat files, etc.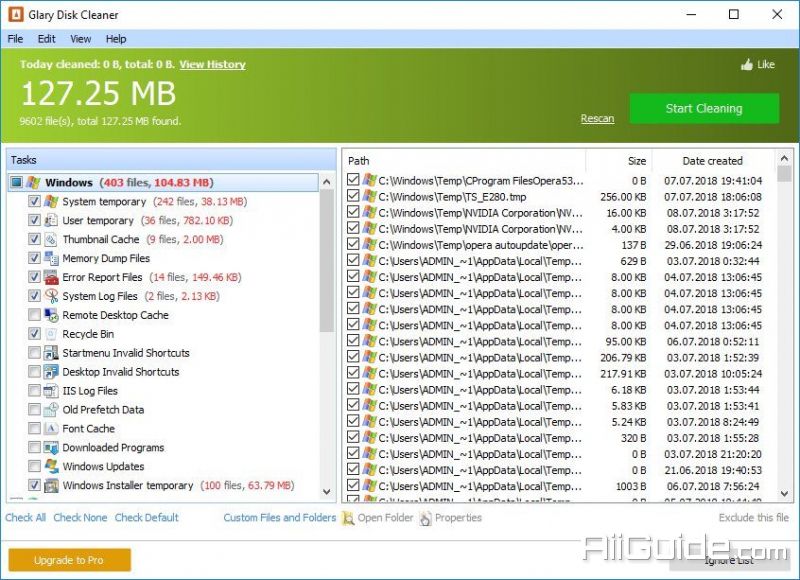 Glary Tracks Eraser makes it easy for you to delete all traces of your activity, including browser history and cookies, so as to protect your identity and prevent tracking. Not only that your privacy is safeguarded, but you also gain a significant amount of storage space, previously occupied by temporary or unneeded files.
Glary Tracks Eraser can analyze important areas of your computer in order to detect unnecessary files, displaying all its findings in an organized manner. It retrieves recently accessed documents, start menu items, a list of performed searches that Windows remembers, items stored in the clipboard, temporary files and Recycle Bin content. With just a click, you can get rid of these items.
Pros:
Glary Tracks Eraser have succeeded in taking an advanced set of features and arranging them in a thoughtful, easy to use way.
Work with a variety of browsers, clean hard disk space, manage plug-ins and clear a number of standard Windows settings
Using professional rapid scanning kernel, Disk Cleaner can very quickly scan all the junk files on your disk.
Features of Glary Tracks Eraser
Secure Erase
With the Securely Erasing feature, you can completely remove junk files from your hard disk without the possibility to recover them.
Further Protection
Besides support for the most popular browsers on the Internet, it is also compatible with numerous other applications, such as FlashGet, Flash Player and QuickTime.
Clean Up History at A Glance
After the clean-up is complete, you can view the clean up history information at a glance.
System Requirements:
Supported OS: Windows XP/7/8/10
Free Hard Disk Space: 200 MB or more.