Download HDCleaner 2 for Windows XP, Vista, 7, 8, 10, 11 - With over 3000 cleaning and repair functions HDCleaner reduces the junk files to minimum for Windows PC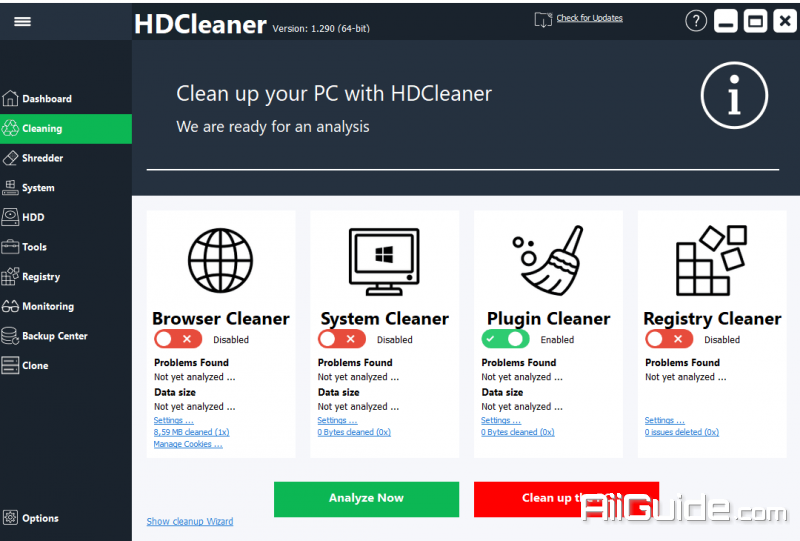 HDCleaner is a complete cleaning of your Windows PC. HDCleaner offers a comprehensive toolkit for system maintenance under Windows. Whether you clean the hard disk or the registry, encrypt data, split files, remove traces of use, backup the registry, defragment or search and replace registry keys, values and data with super fast search algorithm - in the clear "toolbox" you will always find the right tool to speed up your PC and optimize.
Features of HDCleaner
With over 3000 cleaning and repair functions HDCleaner is available on aiiguide.com reduces the junk files to minimum and makes Windows free more system resources, use less memory and operate without errors which results in faster PC performance.
HDCleaner protects your privacy by erasing your browser search history and browser cookies.
Prevent unnecessary programs from starting when the computer boots up. When you start your computer, Windows isn't the only program that loads.
Registry contains all the information about your personal computer settings, software and hardware.
Find and remove duplicate files - Search and remove file duplicates on your computer. The fast search algorithm find duplicates of any file type, e.g., text, pictures, music or movies.
System Requirements for HDCleaner
Supported OS: Windows 7/8/10
Free Hard Disk Space: 100 MB or more