Download McAfee Stinger 12 for Windows XP, Vista, 7, 8, 10, 11 - a standalone anti-virus scanner to detect and remove specific viruses. The program utilizes McAfee scanning, digitally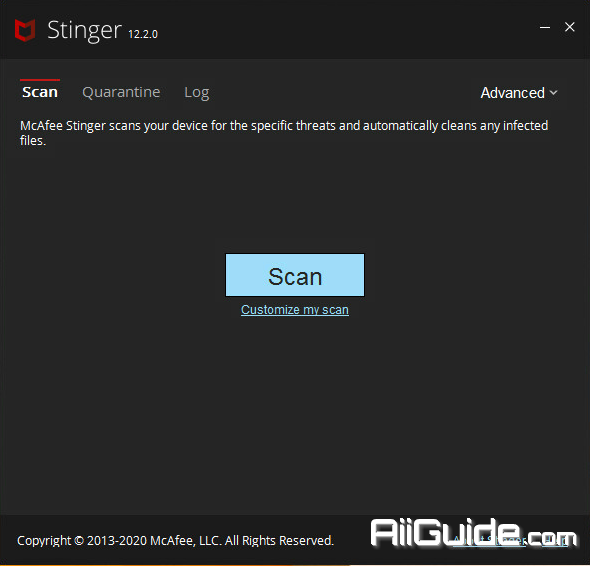 McAfee Stinger is a free application designed to remove malware-infected files from the computer. It scans the hard disk on demand and detects viruses, rootkits, Trojans, worms, and other e-threats. Since there is no setup pack involved, you can drop the executable file anywhere on the hard disk and launch the tool immediately. There is also the possibility to save McAfee Stinger to a pen drive and scan any suspicious computer without installing anything else.
The GUI is user-friendly, made from a regular window with a neatly organized layout. By default, the application looks only into system areas where viruses are known to hide, such as program files and the Windows directory. However, you may customize the scan and reduce its duration by handpicking a drive or directory.
Just keep in mind that the storage device shouldn't be read-only, since the app automatically creates some files when it's running, such as logs with statistics for each scan. An important aspect worth taking into account is that, unlike most installers, McAfee Stinger does not modify Windows registry settings.
Features of McAfee Stinger
Portability advantages
Clean and intuitive interface
Identifies and quarantines malware
Evaluation and conclusion
System Requirements for McAfee Stinger
Operating system: Windows Server 2012, 2012 R2, Windows 8, Windows® 2008 R2, Windows 7, Windows Vista, Windows 2003, Windows XP (x32 and x64*)
Disk space up to 100 MB