Download Paint Tool - Marker for Chrome for Windows 7, 8, 10, 11 - Marker for Chrome provides you with a set of webpage annotation tools, including screengrab capability
Paint Tool - Marker for Chrome, draw anything (shapes, lines or add text) right on websites in real time and taking a screenshot! Accustomed to reading books and highlighting important texts or just wanted to draw on any website in real time in the comfort of your browser? This simple extension will help you on it!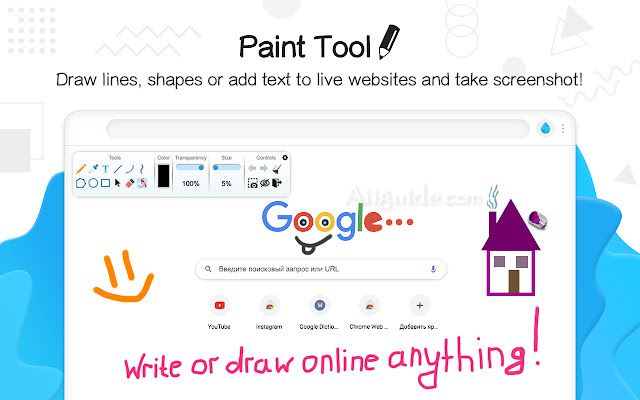 Paint Tool - Marker for Chrome
Paint Tool - is a simple to use free extension that allows you to create and save quick and fun drawings while using Chrome! It can also be used as a Full Page screenshot tool. Extension paint tool is absolutely lite weight and completely free app which can be used for educational purpose and introducing anyone to drawing right from your browser. It can be used to practice the alphabet and numbers and paintings while educating.
Paint Tool - Marker for Chrome Features:
Pencil tool
Text tool
Bucket fill tool
Line tool
Quadratic curve
Bezier curve
Polygon tool
Ellipse tool
Eyedropper tool
Larger color palette
Screenshot tool.