Download Reg Organizer 9 for Windows 7, 8, 10, 11 - The software speeds up and optimizes your operating system, freeing up additional system resources
Reg Organizer is a feature-packed program that provides integrated services for Microsoft Windows. The software speeds up and optimizes your operating system, freeing up additional system resources. The utility allows you to remove unwanted programs from the system and search for traces of the uninstalled program. The disk cleanup feature frees up space on your system disk. And this is only part of features in the utility.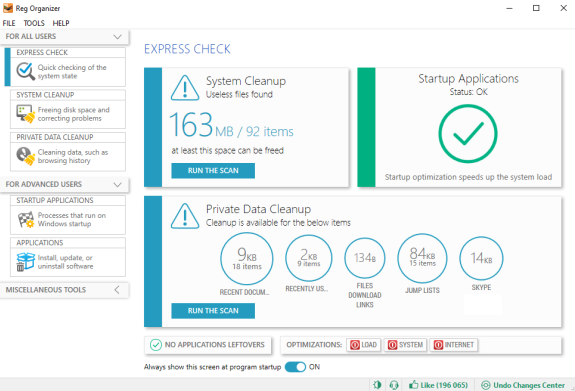 Reg Organizer is also commonly used with features to install and remove applications, disable programs from automatically launching at system startup, search and edit registry keys, compare two states, registry operations.
In addition, CCleaner is also a good choice for this job with basic functions such as fixing corrupted Registry keys, restoring damaged Registry, using CCleaner is a simple solution for you to keep. for the Registry to always work in the best state.
Features of Reg Organizer:
Using Reg Organizer to uninstall programs and remove its traces will help remove unwanted applications and their traces, thereby preventing littering up the registry and computer disks.
Advanced Startup Manager will help you control applications that automatically run with whenever your operating system is started.
With the automatic cleanup feature, you can delete large amount of unnecessary information and free up space on the system disk.
Ability to change many undocumented Windows settings (tweaks).
Advanced Registry Editor in Reg Organizer is available on aiiguide.com allows you to perform various operations with the system registry
Search & Replace in the registry allows you to find the keys related to the application in question and delete them if necessary.
The registry file editor is designed to edit keys and parameters, and to add and delete the content of .reg files.
Viewing registry files (*.reg) before importing their contents will enable you to examine the data before importing.
Tracking registry keys will help monitor the actions of any program and see all changes made to the registry in detail.
System Requirements
Operating system: Microsoft Windows 10 / 8 / 7 / Vista (32-bit and 64-bit)
RAM: from 256Mb
Disk space: 50Mb
Administrator rights